Unilever to establish Manufacturing Plant in Ethiopia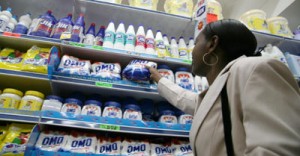 Multi-national manufacturer, Unilever, has announced plans of opening a plant in Ethiopia.
The consumer-product giant will open the manufacturing plant next year as part of its growth strategy in Africa, reports indicate.
According to a company official, the manufacturer plans to replicate its expansion into Vietnam where it reportedly invested $130 million as the business grew yearly at more than 10% for fourteen years.
Reports indicate that the incorporation of Unilever Manufacturing PLC in Ethiopia was finalised in January this year.
Unilever is one of the world's leading manufacturers of several consumer products including; foods stuffs, personal care and home products. Currently, the manufacturer has branches in many African countries.
Reports indicate that the manufacturer currently imports its Knorr cube and Omo detergent into Ethiopia, where it is currently renting an outlet in Dukem's Eastern Industry Zone.
During an interview, Dougie Brew, the head of Unilever's corporate affairs in Africa, stated that the manufacturer might initially produce fabric-cleaning soaps before venturing into food.
Mr. Brew further indicated that the company decided to invest in Ethiopia due to its demography, broad-based growth, and the opportunity to develop a sustainable and inclusive business model.
Last year, Reuters reported on the manufacturer's plans to double its proceeds from Africa in five years by introducing more brands to capitalise on the growing income in the country. Currently, Unilever is reported to make about €3 billion from Africa annually.
Analysts say Unilever and other multinational companies are increasingly focusing on Africa's potential. Africa currently has one of the fastest growing economies and is expected to be the next huge market for consumer products.
According to reports, Unilever aims to support the development of Ethiopian distribution and trading networks, while building up regional suppliers and training Ethiopian personnel to first-rate standards.
A spokesman from the company stated that using the company's brands to enhance the lives of ordinary Ethiopians and contributing to the country's future will be at the core of its business model.
According to a report released last year by the International Monetary Fund, Ethiopia's economy had an average growth of 9.3 percent over the last four years and is expected to grow by eight percent this financial year.
Reports indicate that Unilever aims to build an inclusive consumer-product business, which will source from local suppliers. According to Mr. Brew, retail remains a restricted sector, so most of the company's work will involve developing local companies that will function as distributors.
Unilever will concentrate on Ethiopia and subsequently venture into neighboring countries including Somalia and South Sudan once there is security improvement, sources reveal.
Photo by the Economist: A shopper reaches for a Unilever product.