President Kenyatta convenes his first Informal Cabinet Review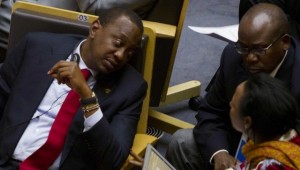 Members of Kenya's cabinet, on Tuesday, March 3rd, are set to begin a 3-day informal meeting at the St Safari Club, Nanyuki, northern Kenya, to review the performance of the Jubilee government in its first year in office.
State House Spokesman and Secretary of Communications, Manoah Esipisu, has revealed that the cabinet will discuss a number of topics at the meeting, such as the new constitution and the state of public affairs.
Mr Esipisu is quoted saying that "The President and Cabinet will attend to the changed governance environment, and review their performance under its new metrics."
He also disclosed that the Executive will complete its fiscal planning for this year and develop a working plan for the Jubilee Manifesto.
The cabinet is also expected to analyse its relationship with the other arms of the government and review progress on its Vision 2030.
Although the current government has faced several challenges in its first year – most notably the International Criminal Court trials of President Uhuru Kenyatta and his deputy and the Westgate attack – critics rate its performance quite well.
Mr. Esipisu has revealed that security will be on top of the agenda at the cabinet retreat. He has also noted that another of the President's priorities is restoring Kenya's leading role in the region.
Many pundits have noted that one of the Jubilee government's main challenges is eliminating corruption – which has been identified as a leading impediment to progress.
Kenya has been ranked as one of the most corrupt countries in East Africa, with one of the highest rates of bribery worldwide, according to Transparency International.
Photo by AFP/Elias Asmare: Kenyan President Uhuru Kenyatta (L) speaks with Cabinet secretary for Foreign Affairs Amina Mohammed (R), and Attorney General Githu Mungai (2-R) at the African Union ahead of a special summit on the continent's relationship with the International Criminal Court (ICC) on October 12, 2013.