Kenyan Authorities Arrest DVD Dealers over Banned Hollywood Film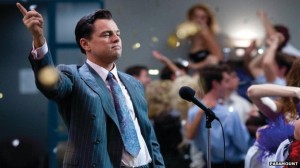 Kenya's film censor board has told the BBC that dozens of pirate DVD dealers have been arrested for selling banned copies of The Wolf of Wall Street.
In January, Kenya Film Classification Board reportedly outlawed the award-nominated film for its "extreme scenes of nudity, sex, debauchery, hedonism and cursing".
But many Kenyans have reportedly continued to obtain pirated copies of the movie from small DVD shops for about $0.57 (£0.35).
The new film, produced by Martin Scorsese, is about the rise and fall of a stockbroker in New York in the 1980s-90s .
The corporate communications officer of Kenya's Film Classification Board (KFCB), Eva Mbuni, revealed to the BBC that up to 30 DVD dealers had been arrested in an ongoing attempt to stamp out the distribution of restricted and unclassified films.
"We are doing this for the sake of our children and our women," Ms Mbuni said.
"What we are seeing is more and more films being produced portraying our women and children badly.
"Are we only showing them for sexual gratification?"
Reports indicate that the sale of pirated DVDs is thriving in many cities across Kenya.
Authorities say most of the traders due to be arraigned in court, reportedly from Nairobi, Mombasa, Nakuru and Eldoret, could be fined $1,160 or be sentenced to a maximum of five years in prison.
Meanwhile, film distributors and major cinema halls in Kenya have reportedly made appeals against the decision to ban the movie.
"The movie could have been allowed, if the distributors had edited out some of the parts we were uncomfortable with," said Ms Mbuni.
"But they refused our advisory to them and we had no choice."
The debate about the banning of this movie has highlighted long standing questions about the cultural effects of globalization.
Photo: A scene from the Wolf of Wall Street.