African Cabinet Secretaries form Network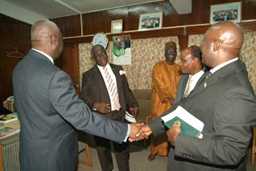 Cabinet secretaries from over 10 countries across the continent formed the African Cabinet Government Network last week in the Ethiopian capital Addis Ababa.
The network was reportedly "established to provide formal and informal opportunities for collaboration and mutual support between Cabinet Secretaries and others involved in managing Cabinet processes in Africa."
Officials further state that the network is expected to enable countries share practical experiences and technical advice in improving decision making and policy implementation.
The African Cabinet Government Network was formed at a workshop organized by international advisory group Adam Smith International and is being supported by the UK government and the United Nations.
The organization has revealed its first programme, the African Cabinet Decision-Making Programme, which officials say "will lead to more systematic and better implemented policy, contributing to national development goals, poverty reduction and improved quality of life for citizens."
"How do you actually address the problem by understanding the causes, how do you get information on what has worked elsewhere in Africa?" asks Mark Johnston, Interim Director of the African Cabinet Government Network in a VOA report.
Officials from across the continent have expressed hope that the network would enable African countries traverse thorny issues that have impeded the implementation of several policies.
The Secretary of the Cabinet and Head of Civil Service of Sierra Leone, Dr. Ernest Surrur, has been elected President of the network.
While, the Director General to the Cabinet of Liberia, Dr. Momo Rogers, was elected the vice president of the network's West African arm.
Mr Abdon Agao Jok Nhial, Secretary General to the Government of Sierra Leone, was elected vice president of the East African arm of the organization, and Dr. Roland Msiska, Secretary to the Government of Zambia, was elected vice president of the South African arm of the network.
Photo by African Cabinet Government Network: Cabinet Secretaries from Sierra Leone and Ghana exchange experience and ideas in a visit arranged by ACGN in January 2012.