Kenyan Police Bust Fake Passport and Visa Syndicate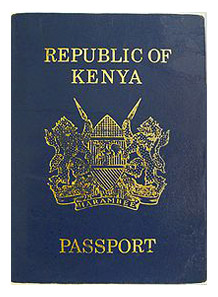 Kenyan authorities on Wednesday arrested nine people suspected of running a fake passport and visa syndicate at the Jomo Kenyatta International Airport.
The group includes a Constable, Mustafa Maalim, an employee of Kenya Airways, Paul Okoth Alala and an immigration officer, who police say is on the run after escaping during the swoop to arrest them. Other members of the group include two Bangladesh nationals, two Ethiopians and two Somalis.
The police reportedly discovered 68 forged travel documents, 29 passports and 39 visa seals in possession of the suspects.In addition, officials have said laptops, printers, lamination machines have also been found at an office believed to be the group's base in Nairobi
The arrest comes after the United States intelligence services reportedly tipped Kenya of an impending attack by the Somali-based Islamic extremist militant group, al-Shabaab.
Last year, al Shabab claimed responsibility for the gruesome siege of an upscale mall in Nairobi, which left 67 people dead and many more injured.
In reaction, the Kenyan government has announced plans of increasing security across all its border entry points as a precaution to prevent further incursions from terrorists.
The Head of Kenya's Special Crime Prevention Unit, Noah Katumo, told reporters on Thursday that police were questioning the suspects and further investigation is ongoing to discover the depths of the syndicate and how long they have been operating.
He stressed the threats to national security such actions could have and warned the public of the dire legal consequences of issuing and using fake travel documents.
"We don't know how many have managed to pass through the airport using these fake documents but we are trying to establish. It seems to be a serious cartel," he said.
Last year, about ten immigration officials were fired after reports from a security audit of the country's Department of Immigration revealed high levels of corruption and complacency in the issuing foreigners with Kenyan identification documents.
As a remedy, the country is looking to digitize all travel documents and create a virtual database where immigration officers can use to cross check documents in their possession in real time.