South Sudanese Army Recapture Final City under Rebel Control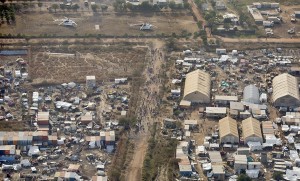 Officials from the South Sudanese Army announced on Monday that Malakal has been completely reclaimed from Machar's rebels, who had been in control of parts of the oil-rich city since last week.
Philip Aguer, spokesperson for South Sudan's Army told reporters that "The SPLA forces have taken complete control of Malakal town. We have defeated the rebel elements that fled into disarray."
Fighting had been reported in Malakal since last week, but the military failed to provide much information due to difficulties communicating with commanders on the ground.
After reports emerged that Malakal had been reclaimed by government forces yesterday, Lul Ruai Koang, one of the spokesperson for the rebels in Addis Ababa refuted the reports saying the army had attempted to recapture Malakal but were defeated. "Malakal is still in our hands," he added.
News of the recapture of Malakal comes just two days after the military revealed that the capital of Jonglei state, Bor, had been wrestled from Machar's forces.
Until now, Malakal was the only urban area under the control of the rebels.
In the wake of the army's alleged victory, pundits have noted that the government now has the bargaining power in the ongoing peace talks and is likely to turn down some contentious preconditions of the rebels (i.e. the release of the 11 ex-ministers in custody).
Hopes that a ceasefire deal would be signed between representatives of both sides in Addis Ababa this week seems to hang in the balance after this latest revelation. Pundits have noted that the rebels would not want to sign any agreement while the government has the advantage.
Fighting is reportedly still ongoing in the outskirts of the Malakal. According to local sources, heavy explosions were heard in parts of the devastated town Tuesday morning.
According to the military's spokesperson, the rebels are being pursued "outside of the town to clear it from them."
Thousands of civilians are reported to have relocated to United Nations camps in Malakal to escape fighting in the city. Eye Radio Juba has reported that up to 3,000 civilians felling fighting in Malakal have arrived at Maban County, Upper Nile State.
It is unclear is the Ugandan military were also involved in the campaign against the rebels in Malakal. However, observers have noted that the peace talks in Addis Ababa is likely to grow in complexity due to the latest swing of bargaining power.
Photo by AP/ Ben Curtis: An aerial view of a UN camp where several civilians have gathered to escape the violence in Malakal.