Djibouti Signs Trade and Economic Deal with China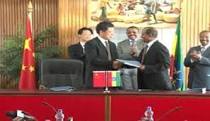 The governments of China and Djibouti have entered into another trade and economic agreement, which is expected to further strengthen the bilateral relationship between the two nations.
With this deal signed on January 15th, the Chinese administration will invest up to $16.5 million in Djibouti's development projects with a focus on health and education.
According to reports, the cooperation deal will permit the government of Djibouti to execute plans of constructing the Tadjourah Regional Hospital, 10 new boreholes, a primary school as well as provide computers for primary school students and pre-school children.
During a meeting last week, Wang Yi, China's Foreign Minister, remarked that bilateral ties between the two countries have improved tremendously since both parties initiated diplomatic relations in the early post-colonial period. Wang further asserted that China has participated in several livelihood and infrastructure projects in Djibouti.
The Foreign Minister revealed that Djibouti has become a significant gateway to the east African market for Chinese products. Consequently, China is willing to collaborate with the government of Djibouti to enhance their partnership and deepen cooperation in various sectors, reports indicate.
The bilateral relations between Djibouti and China have advanced steadily since both nations established diplomatic relations on January 8th, 1979, observers say. In the past, various officials and leaders from China have visited the African country and vice versa.
According to reports, previous bilateral trade, economic, and cooperation agreements has already seen China offering aid to projects in Djibouti, including the construction of a stadium, housing projects, and a monument.
In 1998, both countries signed a trade accord that resulted in trade volume amounting to US $49.83 million between the two nations in 2002, reports indicate.
Both countries have also had cordial relations in areas such as culture, health, and education, sources say. The Chinese government has reportedly offered scholarships to numerous students from Djibouti since 1986 and have sent medical teams to the African nation since 1980.
Last year, both countries also signed a power agreement enabling the construction of a power line linking Nagad and Ali-Sabieh in Djibouti.
During the signing of the recent deal, Ali Youssouf, Djibouti's Foreign Affairs Minister, expressed his excitement over the deal, which came following the commemoration of the 35th anniversary of the initiation of diplomatic ties between the two nations.
The Minister remarked that the two nations have experienced a successful relationship which has resulted in several achievements in various sectors. Ali also noted that China is a vital partner for Africa, while highlighting the strategic significance behind the China-Djibouti relationship.
With the new deal, Ali hopes for continued support from China and emphasizes Djibouti's willingness to reinforce cooperation and bilateral ties between the two.
The two nations have also reportedly agreed to promote mutual assistance and support in international affairs, fostering successful cooperation and deep friendship based on a win-win principle.
While China reinforces its bilateral ties with Djibouti, its relations with the African continent is still growing strong, according to observers.
African countries have always been a significant part of China's foreign policy. The Asian nation has a record of pumping aid into Africa, supporting infrastructural projects and assisting to develop local economies across the continent, reports indicate.
But several critics have decried the Chinese' strategy in Africa, which, like that of the western world, they say largely revolves around the export of raw materials and the importation of finished products.
Photo: China and Djibouti Signing a Deal