Tullow Oil Announce New Discoveries in Kenya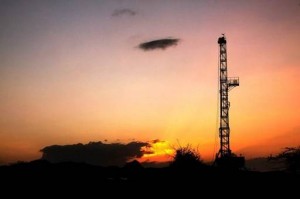 U.K. multinational oil giant Tullow Oil plc have announced discovering new reserves at the same exploration field in northern Kenya the company reported discoveries a few months ago.
In a press release on Wednesday, the company revealed the discoveries at its Amosing-1 and Ewoi-1 wells in Block 10BB, Lokichar basin, Turkana county.
Based on these discoveries, the company has revised its total estimate of discovered reserves in the basin to over 600 million barrels. In total, the company estimates the South Lokichar basin may hold up to 1 billion barrels of oil.
Tullow has had enviable success in its operations in Kenya since establishing itself in the country about three years ago. With this find, the company prolongs its record of having discovered oil in all seven wells explored in the basin to date.
Tullow's exploration director Angus McCoss has noted that "Exploration results to date from the first basin, amongst a chain of basins, have proven that Tullow's onshore acreage in northern Kenya has the potential to become a significant new hydrocarbon province."
Tullow is one of the largest oil explorers in Africa with interests in several other countries including Ethiopia, Uganda and Ghana.
The company revealed that "Given the significant volumes discovered and the extensive exploration and appraisal programme planned to fully assess the upside potential of the basin, Tullow and partners have agreed with the Government of Kenya to commence development studies."
Tullow's operations in Kenya is expected to make the nation the leading exporter of crude oil in east Africa when export commences in a few years.
The company is set to temporarily cease operations on the newly discovered wells to allow tests to confirm their net pay count. Meanwhile, operation is set to continue on other parts of the Lokichar basin.
Tullow's operations in northern Kenya were severely affected by protests from local tribes last year, who claimed the company's operations would negatively impact the environment on which they have historically depended.
However, in mid-November, the company revealed it was resuming operations in the region properly after successful negotiations with government officials and local leaders.
Photo: Tullow's rig in the Lokchar basin where its first oil discovery was made in Kenya. (AFP)