Somalia's Federal Parliament Endorse Prime Minister's Request for 10 more Days to Disclose New Cabinet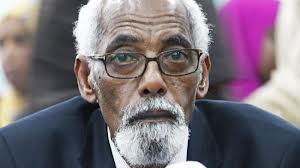 The Federal Parliament of Somalia on Saturday voted in support of Prime Minister Abdiweli Sheikh Ahmed's request for a 10-day extension to finalize his cabinet selections.
According to reports by local media sources, there has been a brewing dispute between President Hassan Sheikh Mohamud and the new prime minister, who was only appointed on December 23rd, last year.
This disagreement – reportedly over the prime minster's insistence on hiring some ex-ministers from the previous cabinet – has led the prime minister to postpone the announcement of his ministers, despite having officially assumed office for up to three weeks now.
While some Somali legislators blame the government for the delay, others say given the importance of creating an effective cabinet, more time can be spared.
On Saturday, the Speaker of the Somali Federal Parliament Mohamed Sheikh Osman Jawari relayed a letter from the Prime Minister to the parliament, detailing his requests.
"The Prime Minister wants a deadline extension of 10 days to complete the list of cabinet of ministers ahead of the confidence vote," he said.
In the ensuing vote, only 3, out of the 142 legislators present, voted against the bill.
The Speaker of Somalia's Federal Parliament noted that the 10-day extension does not include Muslim holidays (Thursday and Friday).
Somalia's former Prime Minister Abdi Farah Shirdon was voted out of office by the Federal Parliament late last year in what has been described as a remarkable display of democracy in the war-torn nation.
While his successor has vowed to create a "larger and efficient cabinet", the abilities of his appointees are already being questioned.
Critics of the ex-ministers generally conclude that new officials must be given priority in lieu of them.
A civil war broke out in Somalia following a collapse of the central government in 1991, resulting in years of anarchy. Attempts to set up some form of a permanent administrative body in the nation have largely failed until recently.
In 2012, after the Islamist militant group al Shabab had been successfully forced to retreat to southern Somalia, a constitution was launched and a federal government was created.
But officials continue to struggle to function administratively amid widespread disputes and the perpetual threat of attacks from al Shabab.
Photo: The speaker of Somalia's parliament Mohamed Sheikh Osman Jawari.