African Leaders under Pressure to Guarantee Freedom of Homosexuals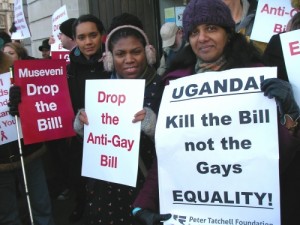 Recent research shows that the number of people in every nation voting for gay marriage is increasing.
So far, fifteen countries around the globe have legally permitted gay marriage. From the fifteen countries, the only African nation is South Africa. Several African countries meanwhile continue to struggle with the social implications of this practice, which is generally considered unacceptable.
In 2006, there was a raucous cry across the continent when South Africa legalised gay marriage. But with increasing pressure from the international community, observers say African governments may be forced to literally redefine the mentality of its citizens on this issue.
Just last Friday, the Ugandan parliament adopted a bill which imposes harsher punishments on convicted homosexuals. If it becomes law, the bill would impose sentences of life imprisonment for consensual, same-sex relationships as well as prison sentences on those who "promote" homosexuality.
According to the United Nations, the bill is discriminatory and a violation of human rights. A few days ago the UN called on the President of Uganda to refrain from signing the Anti-Homosexuality Bill into law. The organization also urged the nation to ensure that lesbian, gay, bisexual and transgender (LGBT) people are protected from violence and discrimination.
The Ugandan government is reportedly also facing oppositions from African LGBT groups. On December 29th, 2013, a demonstration was held in Chicago and another protest is due to take place on January 8th, 2014, in London over the Ugandan parliament's decision to pass the Anti-Homosexuality Bill.
Many Africans believe homosexuality goes against their basic cultural and religious values. That is the main reason why, despite international pressure, African leaders refrain from dabbling in the issue. This is especially true for deeply traditional countries like Sudan, Nigeria and Mauritania, where homosexuality is punishable by death. Meanwhile, in Uganda, Tanzania and Kenya, the punishment for homosexuality is life imprisonment.
In several east African countries like Burundi, Eritrea, Ethiopia, Kenya Somalia and Uganda, gay marriage is traditionally considered illegal. But recently some countries have gone ahead to place a constitutional ban on the practice; Burundi (since 2005), Kenya (since 2010), Rwanda (Since 2003), Uganda (since 2005).
Based on the International Gay and Lesbian Association's 2008 estimate, homosexuality is constitutionally outlawed in 38 African countries, but in at least 13 African countries, there were no laws pertaining to it.
For African leaders, the clamour for lesbian, gay, bisexual, and transgender (LGBT) rights is not just a domestic issue. It is a critical topic that has the potential to seriously affect their international relations.
Photo: A protest in London against Uganda's Anti-Homosexuality Bill.