Kenya:10 Injured in Train Crash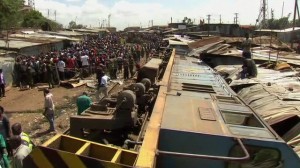 Kenyan Red Cross officials have confirmed that about 10 people have been injured but no deaths occurred after a cargo train crashed into makeshift houses in Nairobi's largest slum in Kibera on Sunday morning.
The rescue team, which included the Kenyan Police, Red Cross and other government officials, allayed fears that many people may have been trapped underneath the rubble of Sunday's crash.
Kibera is considered one of the largest slums in Kenya and Africa. It is home to an estimated 250,000 people, some of who live in makeshift structures built as close to one meter from the railway line.
It has been suggested that the low causality rate may be because people had gone to church and due to the festive season, since many have travelled home to spend the holiday with the families.
"The initial report is that people are feared trapped, but so far we have not received reports of any actual missing persons," a Red Cross emergency officer at the scene told AFP.
The injured have since been taken to the Kenyatta National Hospital were they are receiving treatment.
The cargo train, on its way from Mombasa, is reported to have been transporting 22 wagons and imported wheat to Uganda before it derailed in Kibera. The accident has been blamed on the wet nature of the tracks.
Transport Cabinet Secretary Michael Kamau, who was present at the scene, blamed the train's derailment on the wet and slippery nature of the tracks."It was very wet and the locomotive lost control," he said.
He however cautioned people living close to the rail tracks that they would be evicted soon. "The reality is that it's impossible to have a rail transport in this country when people are living three feet from the railway line," he noted.
The Kenyan government has, on several occasions, tried to evict the encroachers in the past, but without much success. Some insist they should be compensated before they are kicked out, since they have nowhere to go.
Photo: The scene of the crash. [BBC]