Kajiado Probes Claims of Refugee Trafficking in Kenya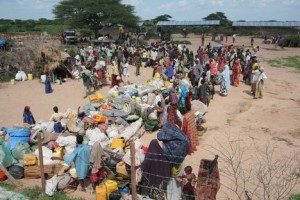 Police in Kajiado, Nairobi are investigating an alleged multi-million shilling human trafficking racket that involves local security agents, according to a recent report by allAfrica.com.
Junior police officers from Mashuuru subdistrict headquarters accuse senior police officers of providing security to traffickers transferring refugees from the closed camps in Dadaab and Liboi through Konza, Mashuuru and Loitoktok before crossing to Tanzania.
Top security chiefs met in Kajiado yesterday with county commissioner Kobia wa Kamau and police boss Tito Kilonzi. Kilonzi said the matter will be handled by investigators from outside Mashuuru and Loitoktok divisions.
"The matter is highly sensitive and should be treated as such," said Kilonzi on the phone. The junior officers, who requested anonymity, said a police car is used every night to escort lorries from Konza to Loitoktok near Tanzania.
They said every Somali refugee pays between Sh70,000 and Sh100,000 for safe passage across the border.
Kilonzi said he had received a detailed message from the officers and that the matter will be investigated fully. He was also provided with names of the officers involved in the racket, which is estimated to be minting millions of shillings.
Every government vehicle has a work ticket, and the sleuths will in their investigations try to establish who signs those work tickets for the police car.
The Mashuuru area OCPD, Gregory Muganda, could not be reached for comment and the Loitoktok OCPD Herbert Khaemba denied knowledge of refugees in his division.
The Mashuuru junior officers who leaked the information that their seniors are involved in the racket suggested that Loitoktok could also be aware because the refugees being alleged to be transported at night have several police escorts. They further claimed that one of the junior officers (police constable) is a Kenyan Somali who is being used as an interpreter and official driver.
It was not immediately clear how the Somali refugees manage to pass through all the security barriers in the country without being noticed–from North Eastern to Konza in Makueni County.
Our informers in Mashuuru claimed that most of the Somalis moving out of Dadaab have been doing business in the country until the government demanded that camps in Dadaab must be closed down.
"They do not want to go to Somalia because they have business stakes in East Africa up to Malawi. Some of them are extremely rich and that is why they pay so much to our police officers for protection. As we talk now some of those officers are millionaires. One of them, whom we have given you his cell phone number, is sending home money through Mpesa at Sh70, 000 every day," said our police informer.
Tito said the cell phone numbers have already been forwarded to mobile providers with a view to establish cash movements through Mpesa.
Kenya remains a source, transit, and destination country for people being trafficked for forced labor and sexual exploitation. Last year, reports indicated that more 9 million children had been trafficked within and out of the country for domestic servitude, street vending, agricultural labor, and sexual exploitation. Furthermore, Kenyan men, women, and girls are trafficked to the Middle East, other African nations like South Africa, Western Europe and North America to provide domestic services, for enslavement in massage parlors and brothels, and manual labor.
Kenya is believed to attract human traffickers due to its shared borders with Somalia, Ethiopia, South Sudan, Uganda and Tanzania–all known sources of human trafficking victims, many of whom are women and children.
Recently, Kenya was placed on the Tier 2 Watch List due to lack of evidence of increasing efforts to combat severe forms of trafficking. Despite positive steps to assess the human trafficking threat to Kenyan nationals in the Middle East and to support the establishment of a code of conduct against child sex tourism, an almost complete lack of law enforcement efforts severely impedes the government's ability to effectively combat human trafficking.
Photo: Refugees at a camp in Liboi, Kenya. [Seigfried Modola/IRIN News]