South Sudan Concludes Historic Investment Conference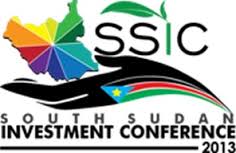 The government of South Sudan and the South Sudanese Investment Agency (SSIA) have drawn the curtains on the first investment conference in the nation's 7-year history.
The 2-day conference entitled 'The South Sudan Investment Conference', which was attended by over 500 local and foreign investors as well as other delegates, was organized to display South Sudan's economic potential to the world and thereby attract investment to strengthen the country's wobbly economy.
South Sudan's economy is in still in its infancy, and according to experts, growth is being hampered by several factors including the lack of proper regulations, the inability to attract more investments, insecurity, and the lack experienced workers.
The South Sudanese economy is dependent on oil trade, from which most of its foreign exchange is derived. In the past few years the country has experienced some notable growth, such as the opening of a grand hotel and about 25 banks. But despite the sudden expansion of banks in the relatively small nation, Osman Ahmed Osman, South Sudan's Commercial Bank general manager told Reuters that banks struggle for foreign exchange. "We have enough to keep going, just to cover the basic needs of our customers," he said.
The government of South Sudan has reiterated its commitment to building the economy of the young nation in spite of internal discord. Speaking at the conference, President Silva Mayardiff Kirr urged investors to take advantage of the fact that the South Sudanese economy is still in its infancy to invest. According to him, "Let me take this opportunity to remind all investors that successful business is about venturing and taking a business risk. Those who wait too long will miss the vast investment opportunities that our country [South Sudan] offers."
The President also noted that South Sudan is open to doing business with local, regional and international investors to put the country's vast resources into effective use. He further called for a mutually beneficial exchange of knowledge and skills between locals and investors, adding that "investment in South Sudan should be a win-win for both our foreign partners and our citizens."
Several experts have called on the government of South Sudan to draft laws which would make the nation's business environment more SECURE and thereby attractive to foreign investors.
In other news, senior leaders of the Sudan People Liberation Movement (SPLM) are scheduled to hold a meeting today to discuss the party's future after President Kirr disbanded key administrative structures of the party last month. The move by the president is reported to have been enforced after the party failed to hold its crucial elective convention ahead of the country's 2015 elections.