Tullow Oil Discover Another Well in Kenya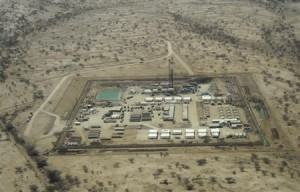 Tullow Oil plc has revealed that it has made its fifth oil discovery in Kenya's northern rift valley region.
The London based operator stated through a press release that its had found and sampled moveable oil at the Agete-1 exploration well in Block 13T onshore Northern Kenya. About 100 meters of oil is estimated to be in the sandstone reservoir site, which Tullow authorities reveal the company had to dig 1,930 meters into the earth to reach.
According to Tullow, the Agete-1 well, which was described as a "wildcard well", was part of a major exploration campaign for the company. "The discovery de-risks several follow-on prospects located to the north and is on trend with the Twiga South Ekales, and Ngamia oil discoveries and adds to the significant resource base already discovered", the company revealed in a statement today.
Tullow's exploration director, Angus McCoss also noted that "A fifth consecutive oil discovery onshore Kenya highlights the emerging world class exploration and production potential within our rift basin acreage."
The company has disclosed that the Agete-1 well, which was drilled by the Sakson Group's land Rig PR5, is going to be suspended for some tests to confirm its net pay count.
Tullow Oil shares equal ownership of the new oil well with Africa Oil. The company has disclosed that work is scheduled to begin on several wells in its Block 10BB field next year.
The discovery of oil in Kenya is set to make the country the leading East African oil explorer and a hotspot for investments. Experts say before the country officially begins exporting in 2016, many more oil discoveries are expected to be made.
While the discovery of oil has brought numerous benefits to African nations, oil is almost always associated with conflict as local communities, who usually associate oil discovery with economic bliss, are awakened to reality and demand inclusion in the oil gains.
Earlier this month residents of Turkana, where several discoveries including this one has been made, took to the streets to protest against Tullow Oil. According to reports of the protest, besides demanding to be included in the drilling process, Turkana residents are also requesting that the company compensates them for their grazing land lost to Tullow's drilling operations.
But Tullow officials maintain that they have supported the community through several projects including a scholarship scheme for children from the area and a clean water project. Following a failed meeting between Kenyan officials and residents of Turkana earlier in the year, there were fears that violence may ensue from the impasse. But officials have dismissed these claims as inconsistent with the reality on the ground.
Photo: An aerial view of Tullow's Twiga-1 drill site in Turkana, Northern Kenya [Reuters/Kelly Gilblom]