Westgate Suspect Denies Accusations & Requests Bail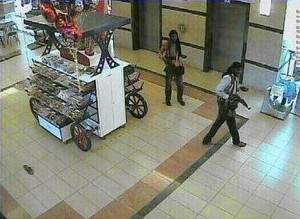 Adan Abdikadir Adan, one of the four young men linked with the terrorist attacks on the Westgate shopping mall in September in Kenya has filed a replying affidavit before the chief magistrate's court seeking to be released on bail pending the hearing and determination of his case.
The accused, through his lawyer Mbugua Mureithi, noted that he is a Kenyan citizen by birth, he was reportedly born at Bulla Jamhuria in Mandera Central.
He also denied using the aliases "Adan Mohammed Ibrahim" and "Adan Dheq". He insists that he has never used the said aliases, stating that he did not know to whom the names he belonged.
The accused has further disclosed that he is a trained Madrassa teacher having attended Nuru Islam Institute in Mandera. He also revealed that he is a practicing Muslim who believes in the sanctity of the human life and denied any involvement in the attack on the Westgate mall.
He claims that while in police custody, he was shown clear CCTV footages of the Westgate attack and noted that he did not appear in any one of them.
Chief Magistrate Kairie Wawero Kairie has ordered the other suspects to file their affidavits and serve the prosecution with the documents by Friday to enable state counsel James Warui, who is the prosecutor in this case, to respond. The Magistrate has also directed the case to be mentioned on November 28 for further direction.
In other news, a western official said that all four gun men who attacked the Kenyan Westgate mall last September had trained in Somalia before crossing into Kenya four months before the September massacre.
The attack saw the attackers storm the crowded Westgate complex, firing from the hip and hurling grenades at shoppers and staff.
"We are confident that there were only four attackers," the Western official said, dismissing initial reports that over a dozen gunmen may have been involved in the four-day seige in which at least 67 died, and adding that all attackers were believed to have been killed.
Somalia's al-Qaida-linked al-Shebab claimed the attack, saying it was a warning to Kenya to pull its troops out of southern Somalia, where they are fighting the extremists as part of an African Union force.
The Red Cross say that at least 20 more people are still missing, with Western officials suggesting as many as 94 could have died in total in the attack, with some victims still potentially remaining under tons of rubble after part of the mall's roof collapsed at the end of the raid.
All four attackers were ethnic Somalis – and believed to come from Somalia – with two of the attackers named as Mohammed Abdinur Said and Hassan Abdi Dhuhulow, a 23-year old Somali who spent several years in Norway.
Source: BBC & AFP
Photo of two gunmen walking inside the Westgate mall during the 4-day attack, [KTN/2013]