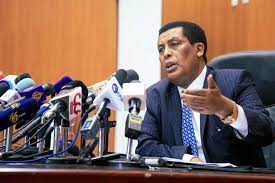 Ethiopia: Government dismisses rumors on covert negotiations with TPLF
Spokesperson of the Ministry of Foreign Affairs Ambassador Dina Mufti dismissed rumors that   the government has engaged in covert negotiations with Tigray People's Liberation Front (TPLF).
"There has never been any negotiation with a terrorist group", said Dina in a weekly press briefing on Thursday.
The government has yet declared that it will negotiate with "terrorist group" Dina said.
In a surprise move, Ethiopia and the United States have reached an agreement whereby they can renew their sour relations.
"The suspicious relationship between the US and Ethiopia has come to an end following intensive diplomatic discussions," he said.
The United States expressed commitment to supporting the planned inclusive national dialogue in Ethiopia and rebuilding those areas destroyed by TPLF forces..
USAID on Wednesday unveiled an over 10 billion birr project aimed at helping more than 400,000 vulnerable people in Ethiopia's Oromia region.
Similarly, the US agency announced another six billion birr worth of project in Amhara region to rehabilitate those people affected by the war.
Meanwhile, more than 200,000 people in Northern afar have been displaced from their homes due to TPLF's renewed attacks, an official said on Thursday.
The attacks by the terrorist-designated group in Afar region have recently been rising, according to federal and regional officials.
"The latest atrocious attack by TPLF on Ab'ala, Magale towns and Barhale; Erbiti areas in the Region displaced more than 200,000 people," said Ambassador Taye Atske Selassie, Permanent Representative of Ethiopia to the United Nations on Thursday.
Humanitarian relief has also been "completely blocked by TPLF terrorist Group by TPLF ", according Ambassador Taye said.
"These wicked attacks are planned and executed to inflict more suffering on the people of Ethiopia," he added.
The attacks and shelling of the Afar region forced the WFP trucks heading to Tigray carrying humanitarian supplies to return halfway to Mekelle earlier this week.