Ugandan Arsenal Fan Loses his Home after Betting it on Premier League Match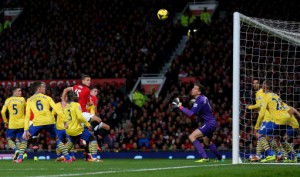 An Arsenal fan in Uganda has been left homeless after he bet his house on the result of Sunday's Premier League match between Manchester United and Arsenal, the Ugandan Observer reports.
Henry Dhabasani, a resident of Iganga district in Eastern Uganda, bet his neighbor and Manchester United fan Rashid Yiga that Arsenal would beat United. Dhabasani staked his two-bedroom home while Yiga put up his new Toyota Premio and his wife. The pair put their wager in writing in the presence of local leaders and fellow fans.
Dhabasani soon found out the folly of his actions after Arsenal lost 1-0 to Manchester United thanks to Robin Van Persie's header in the first-half. The fan fainted as soon as the match ended.
Old Trafford fans stormed his home on Monday and threw out Dhabasani, his three wives and five children.