Ugandan President publicly tested for HIV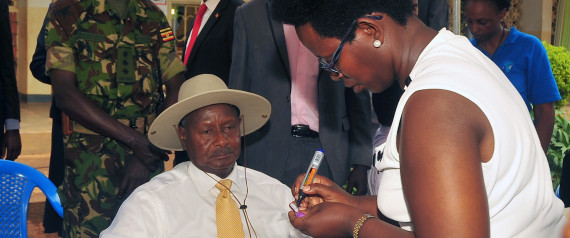 Ugandan President Yoweri Museveni was on Friday publicly tested for HIV at Kiswa Health Center IV in Bugolobi, Kampala, in a symbolic event intended to encourage other Ugandans to get tested for HIV.
The president first received counselling from his personal doctor Dr. Diana Atwiine before a blood sample was drawn for testing. The whole exercise was over in less than five minutes.
"All Ugandans, test and find out your status and let the State and health workers manage you. If you are infected, they will handle you. If you are not, then take care of yourself," Museveni said after the exercise.
He added that risky behaviour was "unnecessary" and being careless to get short-term satisfaction was unwise.
The Uganda AIDS Commission which is tasked with fighting HIV said "The objective of the public HIV counselling and testing is to demonstrate to all Ugandans the importance of knowing your HIV status as an action towards an HIV-free generation."
The commission lauded President Museveni and First Lady Janet Museveni for "leading by example in a bid to roll back the HIV epidemic in Uganda." The first lady was expected to attend the event but failed to turn up due to a back ache.
The government plans to test 15 million people by the end of next year. Officials acknowledge that reaching the target will be a challenge and are encouraging leaders to get tested and set a good example for the country. They have also introduced bill boards in major cities such as Kampala urging couples to put their love to the test by getting the HIV test.
Uganda, once a leader in AIDS control efforts, has recently experienced increased rates of HIV infection. The current HIV rate in Uganda, as revealed by a survey by the Ministry of Health, is 7.3 percent a significant increase from 6.4 percent in 2005.
Married couples are especially at risk when it comes to new infections due to what health agencies describe as a "sexual network" of secret lovers.
New infections are threatening the ability of government and donors to provide HIV and AIDS treatment. Most of the 500,000 Ugandans who are currently in need of treatment are only able to access it due to the U.S. President's Emergency Plan for AIDS Relief (PEPFAR). This number is expected to increase by about 400,000 people if the testing goal is reached.