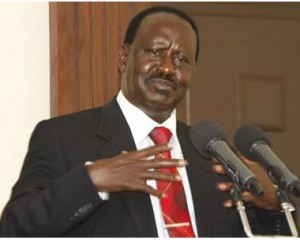 Former Kenyan Prime Minister Raila Odinga has cautioned leaders of the East African Community against isolating Burundi and Tanzania.
This comes after representatives from Burundi and Tanzania have been notably absent from two landmark ceremonies for the EAC—the signing of the East African single customs territory and the Transform Africa Summit held in Kigali.
Mr Samuel Sitta, the Tanzanian Minister for East African Co-operation is reported to have stated that the government of Tanzania does not acknowledge any EAC agreements made in its absence. He added that these acts were clear indications that Tanzania and Burundi are being intentionally isolated in the community.
Mr Odinga advised the EAC to create a special panel to find a resolution to the deadlock. He went on to highlight the economic importance of Tanzania and Burundi to the economic interests of East African nations in Central and Southern Africa.
"To trade with Malawi which is landlocked, with Zambia and beyond you need Tanzania as a transit…it is our economic interest to have Tanzania as a friend and partner," he said.
Tanzania and Burundi are accused of non commitment to the EAC. According to Richard Sizibera, EAC General Secretary, too much focus on "national issues" and "sovereignty" may be why these nations "lose the bigger picture."
Mr Sizibera revealed to the Tanzania Daily News that Tanzania and Burundi have raised questions over their recent exclusion from EAC-related meetings. He stated that these concerns would be addressed at the East African Council of Ministers Summit due to be held later in the month.
"There have also been persistent press reports including misinterpretations on the matter but East Africans are urged not to be unduly alarmed because the challenges are being addressed and will be further considered by the Council of Ministers at its 28th Meeting scheduled for 28th November 2013 and make recommendations to the Summit," he said.
He insists that all the countries, including Burundi and Tanzania, are still committed to the re-creation of the EAC.
However, pundits say if Burundi and Tanzania are continuously isolated in the EAC, they may opt for a union with the Democratic Republic of Congo—and this union is not conducive to the economic interests of the EAC.
Speaking on the prospects of such a union, Mr Odinga warned the EAC to "make no mistake about the potential of the DRC, Tanzania and Burundi put together."
Already, the government of Tanzania is reported to be planning the construction a railway line connecting it with the DRC. Also, according to Mr Samuel Sitta, the increasing closeness between Tanzania and Burundi is likely to make the Dar es Salaam port the number one preferred route for imports and exports to the land-locked Burundi.
Despite these developments, some believe that with the EAC currently headquartered in Arusha, Tanzania, and with the President of Burundi as its chairman, these nations have little to worry about totally being cut off from the EAC.