Somali Football Federation Denounce CECAFA 2013 Senior Challenge Theme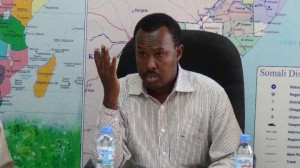 The Somali Football Federation (SFF) has denounced the recently announced 'peace for Somalia' theme of the 2013 CECAFA senior challenge, saying it was unaware of it.
Abdi Qani Said Arab, the Secretary General of the Somali Football Association, in a statement released on Monday night said "It came to us as a surprise when we heard in the media, the (Football Federation of Kenya) FKF President Sam Nyamweya announcing a decision of football for peace meeting on Somalia and what he described as 'peace for Somalia' theme for the 2013 CECAFA senior challenge cup—that is something which doesn't concern Somalia and it is confined to the man who told in the media."
The statement stated that whoever was interested in supporting peace in Somalia through football should get in touch with the Somali Football Federation, which is the correct body to organize and announce such initiatives. Alternatively they can contact the Council for East and Central Africa Football Associations (CECAFA), which is the governing body for regional football associations.
The statement further called upon Sam Nyamweya to justify his "unacceptable" statements to the Kenyan media in respect to the long standing relationship between the two countries. It said that Nyamweya's "unwanted propaganda" had nothing to do with Somali football association or the people of Somalia in general.
The Somali Football Federation did however thank the government and people of Kenya for welcoming Somali refugees into the country. They pointed out that Kenya and Somalia have long had cordial relations both in governance and football. The SFF and FKF have even entered into bilateral cooperation agreements in the past.
The 2013 CECAFA senior challenge is set to be held between November 27th and December 2nd in various venues across Kenya. Participating teams will include those from East and Central Africa as well as Malawi, Zambia and Ivory Coast. The tournament will take place at the same time as Kenya's celebration of 50 years of Independence.