Ethiopian forces accused of killing civilians in Ogaden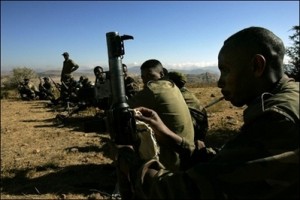 Ethiopian paramilitary forces are reported to have killed three civilians in Godey – a renowned town in the disputed Somali Ogaden region, southeast of the country.
According to a report by the Ogadentoday Press which quotes an unidentified non-governmental organization worker in the area, the men who were killed were accused of being supporters of the Ogaden National Liberation Front (ONLF).
According to the informant, Ethiopian paramilitary forces arrested six civilians in Hadhawe, Ogaden, for their supposed affiliation with the ONLF. The prisoners are said to have been moved to Godey town, where three of them were put to death.
Two of the three executed men are reported to be business owners in Ogaden.
Ogaden has been a point of contention since the region was handed to Ethiopia by the British in the 19th century. The town, which separates Ethiopia and Somalia, has historically been ruled by both Ethiopian and Somali rulers – although it currently has a larger percentage of Somali inhabitants.
The ONLF, which was created in 1984, has waged a war on Ethiopia for self determination of the Ogaden region through it's military arm, the Ogaden National Liberation Army (ONLA).
The fight has been a bloody one thus far, with both sides recording hundreds of casualties.
The Ethiopian government has, on several occasions, been accused of human rights violations in the war against the ONLF. According to human rights groups, Ethiopian forces carry out unlawful detention and extra-judicial killing of civilians thought to be supporters of the ONLF. Ethiopian forces are also accused of forcefully recruiting civilians to join in the war against the rebels.
However, the government flatly denies these charges. Authorities say paramilitary forces in the area are working to cut off the crucial support the rebel group is receiving from the Ogaden clan.
Despite claims from Ethiopian officials that the ONLF has been severely weakened. Only four days ago, the ONLF announced that they had carried out a series of attacks on Ethiopian paramilitary forces stationed in the region.
According to reports, twenty-four Ethiopian paramilitary soldiers were killed in the attacks. There has been no confirmation from Ethiopian authorities regarding this claim. Some Experts speculate that the arrest and killing of these civilians may be a retaliation for the recent rebel attack.
Meanwhile, local elders in Ogaden are reported to have requested that the governor of the area, Abdi Sonkor, provide an explanation as to why the civilians were murdered.
Ogaden has been virtually isolated from the world since 2005, after the government of Ethiopia placed a ban on all international aid and media organizations from operating in the region. Currently, some media houses and aid organizations are reported to be operating in the region with the permission of the Ethiopian intelligence service.
Photo by AFP/Marco Longari