Kenya celebrates Mashujaa Day in honour of independence heroes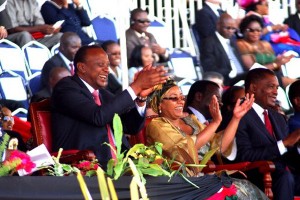 Many patriotic Kenyans gathered at the Nyayo National Stadium in Nairobi on Sunday to celebrate Mashujaa day and honor heroes and heroines who fought for the nation's independence.
President Uhuru Kenyatta presided over the celebrations, marking his first Mashujaa Day since being elected into office and the country's fourth since the new constitution took effect in 2010.
Similar celebrations were also held in all county headquarters throughout the country and attended by several politicians, cabinet secretaries and government officials.
President Kenyatta began his speech with a moment of silence in honor of the victims of the Westgate attack before stating that security was the "shared mandate of all people living in Kenya." He then called upon residents to know their neighbors as a way of preventing security breaches.
"It will be a great betrayal for anyone of us to pretend oblivion while next door, someone is assembling bombs, hoarding illegal weapons, or detaining a kidnapped child. That is why we must all embrace the 'Nyumba Kumi' plan: ensure that you know at least 10 households around your residence well."
The president also kicked off the "[email protected]" celebration calendar – a schedule of diverse activities happening all over the country to mark 50 years of independence.
Deputy president William Ruto was not present at the national celebrations due to his ongoing trial at the international Criminal Court. He however joined Kenyans in Belgium in commemorating the day. At the event Ruto expressed his confidence that he would emerge victorious in the ongoing trial.
He went on to remind Kenyans at the event that there will always be enemies of the country's independence trying to undermine the Republic of Kenya
Even as Kenyans celebrate Mashujaa day, security remains a major challenge for the nation. About 67 people were killed and 175 others injured about one month ago in the latest Al Shabab strike on the country. The government is working hard to tighten security and recently issued a directive to regional coordinators and county commissioners to employ community policing in curbing the rising rates of insecurity.