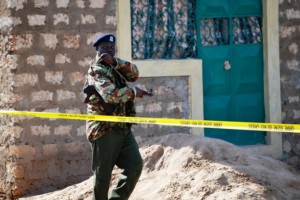 Authorities in Mombasa have issued a top level security threat, leading police officers to increase their presence across the city's streets.
According to reports, besides the presence of police officers around town, the Mombasa police officers are reported to have conducted a survey of several building deemed as possible targets. This included the National Social Security Fund (NSSF) building, the Mombasa Trade Centre, the TSS Tower,Electricity House as well as several banks and shopping centres.
Mombasa county police commander Robert Kitur led a team of security officers on a precautionary exploration of the sites to be secured. Later,  Commander Kitur told the media that the inspection was done because the authorities "do not want to leave anything to chance."
Al Shabab reportedly sent a threat to a radio station in the TSS Tower complex – one of the areas visited by the police. Al Shabab said the staton was being used by Kenya's National Information Service to publish false information about them and their operations.
Workers in the station remained calm despite this threat. "There are several offices in the building that did not open. But it is more out of the tension and fear. There is nothing to be worried about. Everything is under control." Simon Wecera, a caretaker for the TSS Towers told the media.
Police in Mombasa revealed recently that they are keeping close surveillance on four Somali-citizens and Al Shabab members who crossed into Kenya. The police say the suspects are still being profiled. "They have not been arrested but our officers from the Anti-Terrorism Police Unit are gathering evidence before they are apprehended and taken to court. We are aware they have ties with al Shabaab but we must gather concrete evidence." Commander Kitur said.
According to intelligence reports, the four suspects are trained jihadists who have been dispatched to carry out unexpected attacks in Nairobi and Mombasa to mark the August 27th, 2012 killing of Sheikh Aboud Rogo.
Kenya has been thrown into a state of apprehension after Al Shabab's attack on Westgate mall on the 21st.
Photo by Stringer/AFP