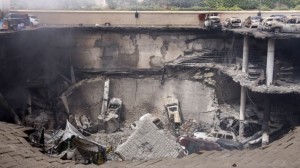 The Kenyan Red Cross Society's database reflects that about 61 people are still unaccounted for from the deadly attack on the Westgate mall.
Reports earlier suggested that about 76 people were missing. However, since then 6 people have been found alive and 9 dead. The Kenyan Red Cross reports that the bodies were traced at the "City Mortuary, Visa Oshwal Centre and Uhuru Park. Fifteen files were closed positively and the online platform for registering people remains up and running."
Hundreds of people showed up to the Westgate mall after the attack to seek their missing relatives. Pathologists from Universities and other volunteers are assisting people identify the bodies of their relatives before leading them to counsellors. The Kenyan Red Cross revealed that "The increased public anxiety on account of missing persons, the disruption caused by the continued crisis and inadequate information flow has been a challenge."
The authorities have therefore set up a hotline number and an online portal for individuals to submit missing persons report and get updates on news about their missing relatives. In a statement released today, the Kenyan Red Cross confirmed that it has receiving calls from various nations including China, Norway, Australia and South Africa inquiring about their missing citizens.
Earlier Interior Cabinet Secretary Ole Lenku had suggested that the bodies trapped in the collapsed part of the building, which is yet to be accessed is "insignificant." Adding that he expects that only the bodies of terrorists were left in the building. But the large amount of people yet to be accounted for seems to put his comments in question.
A doctor observing bodies at the Westgate mall has revealed that the attackers tortured the victims before killing them. The doctor, who is reported to be a forensic expert told The Star newspaper that the attackers raped, mutilated and tortured victims before killing them. Some sources suggest that this is the actual reaosn behind the Kenyan government's decision blow up the building.
Outside the mall, investigators say they have found a vehicle suspected to have been used by the Al Shabab terrorists behind the attack. The silver saloon car was parked only 20 metres from the mall. The authorities have asked people to come and retrieve their cars but many cars still remained parked around the mall. A police officer who asked to be anonymous told XINHUA that "The police are looking for the owner of the car which was recovered on Thursday. We found some devices and other paraphenalia which we believe were used by the terrorists to attack the mall."
This attack is the largest since the bombing of the U.S. Embassy in Nairobi in 1998. Al Shabab claims it is intended to punish the Kenyan people and government for meddling in Somali affairs.
Photo by AP Photo/Kenya Presidency