Kenyan forces take control of Westgate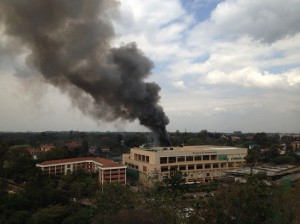 After close to four days of fighting and suspense, Kenyan authorities have confirmed that all the al shabab militants at the Westgate mall have been killed and all the hostages have been released.
The Kenyan Interior Ministry shared a tweet earlier today to inform the public that the authorities were "in control of Westgate." According to Manoah Esipisu, State House Spokesperson and Head of the Presidential Press Service, Kenyan special forces were still searching the area for any hiding hostages or terrorists. He said "The special forces call this sanitising. At the moment they have not met any resistance, but of course we are not ruling out the possibility that there are a couple of them hiding in a remote room or corner."
Earlier today explosions could still be heard from the building, but the authorities said this was part of a drill to comb the building for any undetonated explosives. The Kenyan special forces made a good show of their skills in resolving conflicts. In all, about 63 people were killed in the attack and over 170 injured. The authorities also confirmed to have killed all six al shabab militants, including two or three American teenagers and a British citizen. Although some hostages and reports claimed at least one of the attackers was a female, the Kenyan Interior Ministry have confirmed that they were all males.
The fact that the attackers were people from different nations raises a lot of questions about the motives behind the attack. Ms Amina Mohamed, Kenya's Foreign Minister descibed the attack as having a "global nature." Julius Karangi, Kenya's army chief said the attackers were from different countries and some had dual nationalities.
After his arrival in Kenya on Monday night, Vice President William Ruto assured the people that the government was working to keep Kenya safe. He said "We want them to know that Kenya is ready for them…we will defend the lives and property of our people and the prosperity of the people of Kenya. We have what it takes to make our country safe."
Photograph by Jerome Delay/AP