Kenyan Military Deployed to Quel Clashes Near Kenya-Ethiopia Border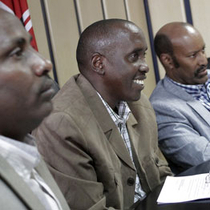 Kenya has deployed military officers to Marsabit County near the Kenya – Ethiopia border. The region has been experiencing violent clashes between the Borana, Burji, Gabra, Gharre and other communities living in the area. Twenty people are estimated to have died since the conflict began late last month.
Cabinet Secretary for Interior and Coordination of National Government, Joseph Ole Lenku, however told journalists in Nairobi that government records indicate that only 13 people have died in the conflict. "Thirteen is the number of actual bodies that we have been able to retrieve," he said.
Lenku recently summoned leaders from Marsabit County including County Governor Ukur Yatani and Moyale Member of Parliament Roba Duba for a meeting in Nairobi regarding the violent clashes. The leaders were questioned over the violence as directed by Inspector General of Police David Kimaiyo. The leaders will however still undergo formal questioning by the Criminal Investigation Department as part of an investigation into the attacks.
During the meeting, the leaders stated that the communities are fighting over various resources including land and grazing areas and are suspicious of each other. They also urged residents to maintain peace stating that they would ensure that county resources were distributed equally so as to eliminate suspicion.
The military will however also be investigating the possible involvement of foreigners in the conflict. Lenku said any foreign elements found participating in the conflict "will be dealt with by the full force of the law."
Kimaiyo had also earlier stated that "the Moyale conflict is being investigated with a view to bringing to book those found to have committed various offences, which include murder, arson, looting and incitement, both political and social. The financiers or sympathisers will also not be spared."