Trial Against Kenya's Deputy President Begins at the ICC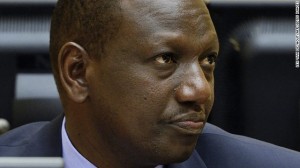 The trial against Kenyan Deputy President William Ruto for alleged crimes against humanity began Tuesday at the International Criminal Court (ICC).
He is accused of having orchestrated the deadly postelection violence of 2007 alongside Kenyan radio journalist, Joshua Arap Sang who is on trial for murder and persecution.
While reading out the charges, the court's presiding judge, Chile Eboe-Osuji, said "William Samoei Ruto, you have been charged, in count one, with murder constituting a crime against humanity under article 7 1a, and article 25 3a of the Rome statute. How do you plead, guilty or not guilty?"
Mr. Ruto pleaded not guilty.
ICC Chief Prosecutor, Fatou Bensouda said, "the prosecution asserts that the two accused, Mr. William Ruto and Mr. Joshua Arap Sang, are among most responsible for the crimes of murder, of persecution and deportation that occurred in the Rift Valley."
"It is difficult to imagine the suffering or the terror of the men and the women and children who were burned alive, hacked to death or chased from their homes by armed youths," she added.
Defense lawyer Karim Khan on the other hand termed the case "a whole-scale duping of an office that has been put in place to protect the rights of victims" and expressed confidence that it would fall apart.
Mr. Khan further stated that the ICC investigation was designed to target his client William Ruto and evidence was squeezed to fit this narrative.
Kenya's president Uhuru Kenyatta will also be tried for crimes against humanity in a few weeks. These are landmark cases for both Kenya and the ICC and the court is hoping to demonstrate that it can successfully prosecute an African leaders.
Other African leaders indicted by the ICC include former president for Ivory Coast Laurent Gbagbo and current president of Sudan Omar al-Bashir.