Kenyan President Issues Free Title Deeds to Landless Citizens in the Coast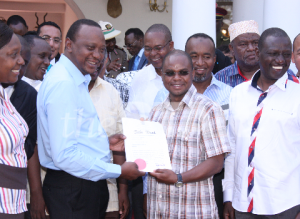 Kenyan President, Uhuru Kenyatta, has commenced the issuance of 60,000 title deeds to residents of Kilifi and other counties in the coast region. Out of the 60,000 title deeds to be issued in the coast region, Kilifi County stands to get 19,000, the highest number among counties in the region.
The deeds were issued free of charge to squatters at a ceremony held at Karisa Maitha grounds in Kilifi County. In attendance were President Kenyatta, Deputy President, William Ruto and Cabinet Secretary for Lands, Housing and Urban Development, Charity Ngilu.
During his speech, Mr. Kenyatta acknowledged that the coast region had had a squatter problem since independence and said that his government had taken the matter seriously and started to "started to adjudicate lands and prepare titles deeds for the beneficiaries."
He said the Kenya must move on "from the land question to the land answer so that we can begin the pace of rapid economic growth and development in our nation."
The title deeds are part of the promises that the Jubilee Government made before their election in March 2013. Past governments have not been committed to addressing land issues so when the president and his deputy promised to tackle the issue if elected, citizens thought they were just playing politics.
Mr. Kenyatta says his government will work to ensure most Kenyans get their title deeds in the next two years but said there was a shortage in surveyors which could potentially delay the process. The government plans to issue three million title deeds over the next five years.
He has directed the Cabinet Secretary for Lands to ensure adjudication for government settlement schemes is completed as soon as possible.