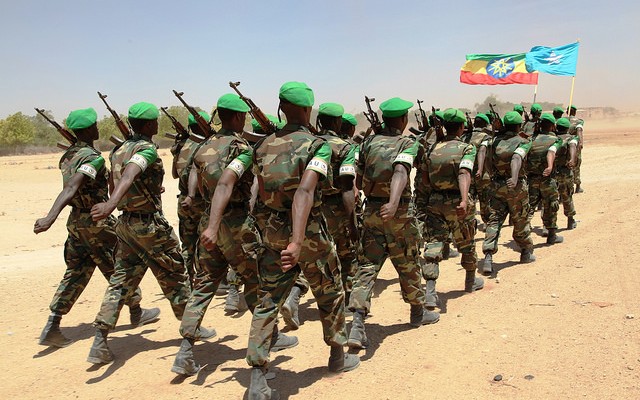 Ethiopia Denies Withdrawing its Troops From Somalia Over Amhara and Oromo Protests
Islamic insurgency group al-Shabab has taken over a strategic town in war-torn Somalia on Wednesday after Ethiopian troops withdrew from their positions on Wednesday.
Ethiopia, which has contributed thousands of troops to the African Union peacekeeping mission (AMISON) in Somalia, withdrew its soldiers from a military base in Tiyeglow, a south-western town.
Al-Shabab announced that they took over the town, which is strategic due to its location, after the withdrawal of Ethiopian and AMISOM forces to Hirran, the capital of Somalia's Bakol region, Reuters reported.
Residents of the town have reportedly started fleeing their homes in fear of Shabab. The group, which has links to Al-Qaeda, has reportedly taken over three towns this year after Ethiopian troops pulled out.
The news of Ethiopia withdrawing its troops from Somalia began circulating in September. Addis Ababa is dealing with violent anti-government protests at home. The government has allegedly recalled about 3,000 soldiers from six bases in Somalia to quell the widespread demonstrations.
However, Ethiopia's Communication Minster Getachew Reda has said the decision to withdraw the troops from Ethiopia's 22,000-strong AMISOM peacekeeping force had nothing to do with the unrest at home, BBC reported.
Reda blamed the international community for their lack of commitment towards peacekeeping efforts in Somalia.
"The international community also has a responsibility either to train or to support the Somali national army in whatever way they promised and if they do not make good in that promise and Somali national army fails to discharge their responsibilities then of course, as they say, nature – and al-Shabab, – abhors a vacuum, so they'll just move in," he explained.
Ethiopia has long supported the African Union's (AU) peacekeeping efforts in Somalia. AU troops are fighting Shabab to protect Somalia's internationally-backed government. Shabab is seeking to topple the government and make Somalia a fundamentally Islamic state.