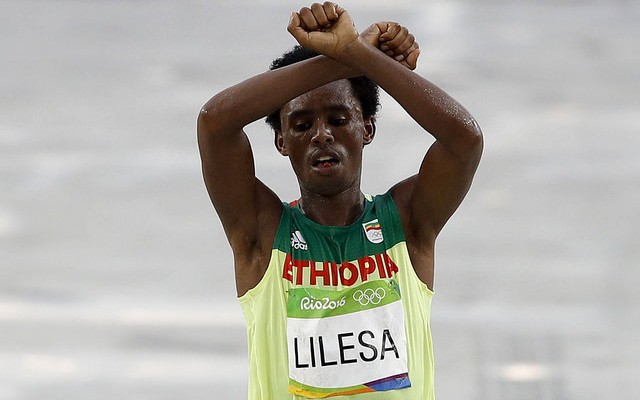 Ethiopian Athlete Protests Against Government After Winning Canadian Marathon
A week after Feyisa Lilesa's Rio Olympics protest, another Ethiopian athlete has demonstrated against the Ethiopian government on the race tracks.
Ebisa Ejigu, who won the SSQ Quebec City Marathon on Sunday, made an X-sign with his hands as he crossed the finish line.
The symbol is a sign of solidarity among the Oromo people, Ethiopia's largest ethnic group, who have been protesting against the government since November 2015, AP reported.
The Oromo protests reportedly began in reaction to a government plan to expand Addis Ababa into the Oromia region.
Ejigu, who won the Quebec City Marathon with a time of 2:30:40, is reportedly from Addis Ababa or surrounding areas, the Canadian Running Magazine reported.
Ejigu has reportedly been living in Toronto since June, according to the BBC. The runner is yet to make a statement about his protest against the government.
Feyisa Lilesa, who said he feared for his life and safety after his protest in Rio, did not return to Ethiopia with other athletes even after the government assured him of a "heroic welcome."
A crowd-funding campaign, which was organized to support Lilesa and his family, has since raised $157,438.
Although Lilesa has said he would seek asylum, it is unclear which country he has chosen to apply to.
[Photo by Jeso Carneiro/CC BY-NC 2.0]