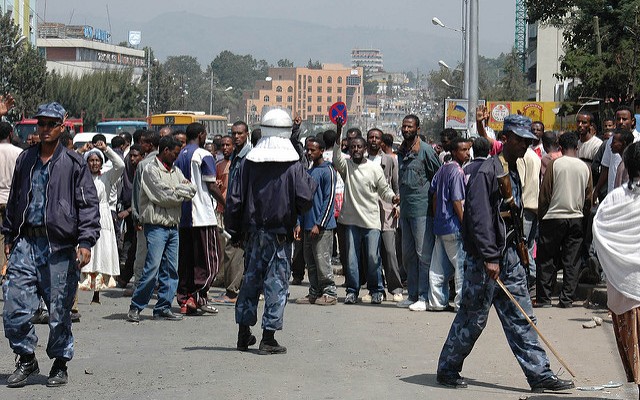 Protesters Clash With Ethiopian Police During Amhara Protests in Gondar
A second wave of mass protests against a controversial government decision broke out on Friday in Gondar, a city in Ethiopia's Amhara region.
Demonstrators reportedly clashed with police officers during the protest, BBC reported. Unverified images of the demonstration are currently circulating on social media.
Last Sunday, thousands of protesters took to the streets of Gondar to protest against a government decision to place an Amhara district under the administrative jurisdiction of Tigray, a neighboring region.
Prime Minister Hailemariam Desalegn said during a press briefing on Friday that although Ethiopia's Constitution permits demonstrations, the recent protests in the country are illegal.
Hailemariam added that the sentiments expressed during the protests in Gondar and Oromia do not represent the entire public but forces looking to destabilize the country, Fana Broadcasting Corporate reported.
"The government is aware that the ideas and slogans reflected in the demonstrations do not represent the people of Oromo and Gondar," he said.
The protests come after unrest in the region after demands that the Welkait community, which was recently placed under the Tigray region, be returned to Amhara.
The demonstrations and ensuing violence led the U.S. government to issue a temporary travel ban on Gondar. The U.S. Embassy in Ethiopia issued the advisory warning its citizens residing in Gondar and those traveling there to be careful.
[Photo by Andrew Heavens/CC BY-NC-ND 2.0]