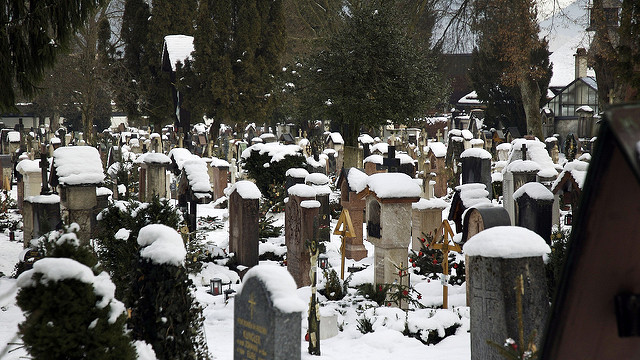 Eritrean Refugee Arrested for Allegedly Raping 79-Year-Old German Woman in Cemetery
Police in Germany have arrested a 40-year-old Eritrean refugee accused of raping a 79-year-old woman in a cemetery.
The suspect, who has been living in Germany since 2013, allegedly raped the woman last Sunday.  The incident took place in Ibbenbueren, North Rhine Westphalia where the woman went to visit her sister's grave.
A witness called the police after hearing the woman screaming for help. The pensioner, who lives in a nursing home, was reportedly released from the hospital on Tuesday after being admitted for treatment following the assault.
The alleged rapist lives in a refugee shelter located in Horstel, about 15 minutes away from the cemetery.
The suspect, whose identity has been withheld, is currently in police custody after being charged with rape, the Daily Mail reported. If he is found guilty, the Eritrean man could face up to fifteen years in prison. The police are investigating the incident.
The alleged assault comes as Europe is dealing with a refugee crisis and a series of refugee-related sexual crimes.
Refugees in Europe have committed some sexual offenses, the most notable occurred during New Year celebrations in Cologne. About 1,000 women attending the celebrations were robbed and sexually assaulted by a group Arabic and North African men, Express UK reported.
This month, the German government passed a law that broadened the definition of sexual offenses. The new legislation, which received a standing ovation after its passing, makes it easier for German to deport foreigners who violate the law.
About 1.8 million migrant seeking asylum reportedly entered Europe last year. The smuggling of people from the Middle East and North Africa to Europe is a multinational business, Europol and Interpol reports. Smuggling rings reportedly made about $5 to $6 billion from trafficking thousands of migrants to Europe last year.
[Photo by scot2342/CC BY-NC-NC 2.0]