Kuwait Seeks to Ban Ethiopian Maids in 2 Years After Report of Premeditated Murders Targeting Employers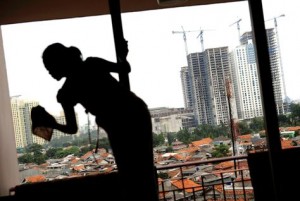 Kuwaiti officials are pursuing a proposal for the government not to renew the work and residence permits of all Ethiopian maids as a short-term approach to ridding the country of the women.
According to Arab Times, the proposal was submitted this week to the Ministry of Interior by Brigadier Mohammad Al Sharhan, deputy director-general for Kuwait's Criminal Investigations.
The proposal, which seeks to rid the country of all Ethiopian maids in two years, was accompanied by a report of heinous crimes committed by the East African women.
The collage of crimes includes a series of premeditated murders committed by Ethiopian maids.
The report claims that most Ethiopian women believe in human sacrifice to atone for sins and attract blessings. The report also claims that the victims of these sacrifices are usually young women, "preferably virgins."
According to the report, most of the murders committed by Ethiopian maids were premeditated. The perpetrators usually killed their victims – usually their employer's daughter – with a knife, the report said, adding that investigations often found that the victims and their attackers had a good relationship before the fatal incidents.
Kuwait is the largest employer of domestic workers in the Middle East. The country is host to about 666,000 domestic workers – many of whom are from Africa and Asia.
The country also has the highest ratio of domestic workers to citizens in the region with about 90 percent of Kuwaiti household employing a foreign maid.
It is estimated that there are about 74,000 Ethiopians living in Kuwait. Thousands of Ethiopian women travel to the Middle East and Asia yearly in search of jobs.
In 2014, Ethiopia sought to impose a ban Ethiopians traveling to other nations to work as domestic servants after investigations revealed that most were victims of human trafficking.
In the past few years, maids have repeatedly made headlines in the country and around the region for perpetrating violence against their employers and their family.
According to some reports, these crimes could be triggered by depression and other psychological disorders caused by inhumane working conditions.
There have been several reports of domestic workers in Kuwait suffering terrible abuses including working for long hours without rest, non-payment of wages as well as physical and sexual abuse.
According to Kuwaiti's Kafala sponsorship system, these workers are not allowed to leave or change jobs without the consent of their employers. They are considered "illegal" if they flee from their employers.
Photo: Getty Images