Ethiopian Athletes Dominate 2016 Boston Marathon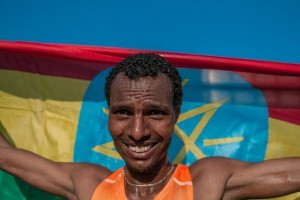 Ethiopian athletes won the 120th edition of the annual Boston Marathon on Monday after dominating both the men's and women's division.
Ethiopia claimed the top three winning spots in the men's division and the top two spots in the women's.
Ethiopia has a coveted reputation for being a long distance running powerhouse. However, until now, the country has never recorded a clean sweep of all titles at the Boston Marathon.
Lemi Berhanu Hayle, 21, won the elite men's division of the 2016 Boston Marathon with a time of 2:12:45. While Lelisa Desisa, the 2015 champion, came second in a time of 2:13:32, and at a time of 2:14:02, Yemane Adhane Tsegay came third.
In the women's division, 29-year-old Atsede Baysa won the race with a time of 2:29:19. Speaking through a translator, Baysa said she was very happy and lucky to win the Boston Marathon.
"To win Boston is not easy," she said.
Baysa's training partner Tirfi Tsegaye came second with a time of 2:30:03.
Meanwhile, Kenya's Joyce Chepkirui came third with a time of 2:30:50.
Ethiopia is reportedly yet to selected their team for the upcoming Olympic Games in Rio, Brazil.
Ethiopia has been recently embroiled in a doping scandal involving some of the country's elite athletes.
The World Anti-Doping Agency (WADA) and the International Association of Athletics Federations (IAAF) have given the country an ultimatum to conduct mass doping tests on about 200 athletes by November or get banned.
Photo: AP