Italian Financial Firm to Fund Construction of 2,000 MW Dam in Ethiopia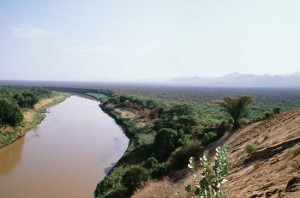 Ethiopia has announced the construction of a 2,000 MW capacity dam, which would be funded by an Italian credit firm.
Ethiopia's Prime Minister Hailemariam Desalegn announced the deal for the dam named Koysha this week. The announcement came after successful negotiations between Ethiopia's Electric Power (EEP) and Italian construction firm Salini Costruttori.
The Koysha dam will reportedly be situated in southern Ethiopia, on the lower bank of the Omo River.
The Koysha dam is estimated to cost around $1.7 billion. An Italian financial firm called Servizi Assicuative del Commerce Estero (SACE) will reportedly fund the dam's construction.
An Ethiopian delegation led by the CEO of EEP Azeb Asnake , and the head of the Ministry of Finance and Economic Cooperation's Legal Affairs Directorate Wasihun Abate, travelled to Rome to close the financing agreement.
Under its five-year development plan, the Ethiopian government has made it one of its top priorities to increase the nation's energy supply. The country is looking to utilize its rivers for power generation. Recently, the 1,800 capacity Gibe III dam became operational.
The country is also vested in the construction of the Grand Ethiopia Renaissance Dam (GERD), which is expected to be the largest in Africa. The dam, which is being built on the Blue Nile, is already over 50 percent complete.
Desalegn's announcement of the Koysha dam in parliament came during the 5th anniversary of the commencement of the construction of the 6,000 MW GERD.
"Our Grand Ethiopian Renaissance Dam has become the leading project to ensure Ethiopia's vision of becoming the centre for the renewable energy in Africa," Desalegn said.
"Considering the development potential the Dam could generate, the Ethiopia government has plans to invest in the area," he explained. "This investment, having its centre at the Nekempte Town, will considerably improve the lives of the target residents specifically and serve as the mega business centre for the entire citizens."
Meanwhile, Ethiopia has also signed a $4 billion deal with a US-Icelandic firm Reykjavik Geothermal. The deal is for the construction of a 1,000 MW geothermal facility, which would be Ethiopia's first privately-run power plant.
Photo: Getty Images