Over 28 People Killed in Flooding in Ethiopia's Afar and Jigjiga Regions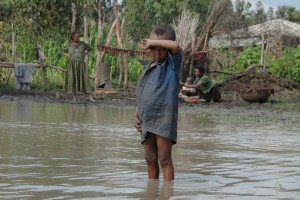 More than 28 people in Ethiopia have been killed by severe flooding after a river overran its banks on Sunday.
According to Ethiopia's Broadcasting Corporation, the fatal incident occurred in two remote regions of the east African country.
About 23 people were reportedly killed, and 84 sustained injuries this Sunday after a river, which flows through Jigjiga, the capital of the Somali region, overran its banks.
Five people also lost their lives in the Afar region after heavy rains triggered severe flooding. The Afar region is the most affected by the El-Nino inspired drought, which has left millions in need of food aid.
Ethiopia's meteorological authorities have predicted more flooding after observing thick clouds around the Indian Ocean. The heavy downpour is expected to affect both regions.
The government is reportedly taking the necessary precautionary steps to assist people in these remote regions.
Ethiopia is facing with its worst drought in 30 years. Extreme weather patterns have left over 10 million people in need of food aid. Drought conditions have also led to the deaths of thousands of livestock and crops.
In the past few months, Ethiopia has been experiencing heavy rains. This pattern comes after an extreme drought last year.
The global climate change has reportedly affected the intensity of this year's El Nino. The drought condition is affecting several eastern and southern African nations.
Photo: Reuters