Kenya Police Investigate Athlete Doping Claims Amid Reports of International Ban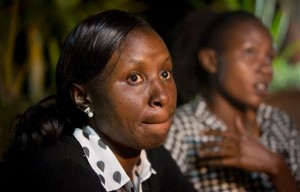 Police in Kenya on Sunday began investigating claims of doping and bribery among athletes after reports of an international ban that could see the East African country miss the Brazil Summer Games.
Kenya, reputed for its high performing athletes, is troubled by the recent doping claims which it fears is giving the country a bad reputation.
Inspector General of Police Joseph Boinnet said officials are pursuing leads and doping and bribery suspects will be arrested soon. He said athletes involved in doping are destroying the image of country.
Reports of doping have made the World Anti-Doping Agency (WADA) focus on Kenya. Over 40 Kenyan runners have been suspended, following the scandal which went viral last year.
In a statement released last week Friday, WADA said it had forwarded Kenya's doping case to its independent compliance process. The report came after Kenya missed a WADA deadline to rectify the issue of doping and clean the sport.
WADA has described viral reports of an impending international ban on Kenyan athletes as pre-mature. The anti-doping body said its compliance committee will review what Kenyan officials have done to improve the situation in the country.
Despite commending the efforts of the Anti-Doping Agency of Kenya (ADAK), WADA said there is still a lot of work to do. The global anti-doping agency also said it is awaiting the Kenyan government plans to curb bribery and doping.
Kenya is yet to finalize its anti-doping rules and legislation. Funding of the National Anti-Doping Organization (NADO) is also pending.
According to reports, a Cabinet decree mandated ADAK to draw up a legal model for the criminalization of doping. The decree also entrusts ADAK with the responsibility of investigating cases of doping. In court, the local anti-doping body has also been mandated to lead the prosecution of athletes, agents, managers, coaches and suppliers of banned substances.
However, reports indicate that although the decree was issued in December, the ADAK is yet to officially start operations.
WADA also expressed concerns over reports of high-ranking Kenyan sporting officials soliciting bribes from athletes.
Athletes Joy Sakari and Francisca Koki Manunga were suspended for four-years after testing positive for banned substances at the Beijing world championships last year.
Last week, both athletes claimed the CEO of Kenya Athletics, Isaac Mwangi, asked for $24,000 to reduce of their suspensions.
"WADA is most disturbed by these reports regarding extortion and bribery at the national level of sport, eerily similar sounding to what we learnt through the recent Independent Commission investigation into widespread doping International Athletics," WADA Director General, David Howman said.
Three high-ranking Athletics Kenya officials were caught in last year's corruption and doping scandal. President Isaiah Kiplagat, Deputy David Okeyo and former treasurer Joseph Kinyua were all suspended by the IAAF for covering up doping and engaging in corrupt practices.
The officials have, however, denied the allegations.
Photo: AP (Francisca Koki Manunga and Joy Sakari).