Suspected Ethiopian Raiders Kill Kenyan Police Officer in Conflict-Prone Border Town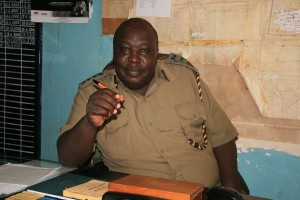 Authorities in Kenya are investigating the death of a police reserve officer, who was shot by gunmen in Karare, Marsabit County.
The incident reportedly happened over the weekend after the gunmen, who are suspected to be Ethiopian raiders, opened fire on the bus, which the officer was escorting.
The driver of the bus heading to illeret Town from Loiyangalani had reportedly refused to after being flagged-down by the gunmen.
Acting Marsabit Police Commander Mark Wanjala said the gunmen opened fire on the bus after it failed to stop.
"Yes a homeguard was killed after the lorry driver failed to stop prompting the gunmen to open fire," Wanjala said.
Reports indicate that the driver did not sustain any injuries. He reported the incident to Illeret police after arrival. A passenger also survived the attack unhurt.
The deceased official has been identified as Abdi Edin. Authorities did not disclose his age or information regarding his burial.
Wanjala said although officials have since launched an investigation into the incident, no motives have been established yet. He added that no arrests have also been made.
"We have launched investigations into the incident and are asking wananchi to co-operate with security personnel," Wanjala said.
Kenyan authorities have reportedly intensified police patrols in the border town with Ethiopia. The border region is conflict prone. Recent violent ethnic rivalry has left several people dead and forced many to flee their homes.
Last week, Ethiopian security officials are reported to have abducted two Kenya civilians and stole two firearms from police reservists in Marsabit County.
In November, Kenyan authorities deployed army and police officers to Marsabit County after Ethiopian soldiers trespassed and killed three police officers.
The cross-border conflict has spurred Kenya and Ethiopia to sign a $200 million trade pact aimed at ensuring peace and increasing security along the border regions.
The United Nations (UN) supports the cross-border trade pact, which will be implemented by both Nairobi and Addis Ababa.
The UN will fund the project which aims to improve education, health, and create more job opportunities by diversifying the traditional sources of income.
The project also seeks to reduce poverty, inequality and conflict by introducing peace building and conflict resolution management initiatives.
Photo: Ben Kett/ Nation Media Group