United States Urges Ethiopia to Release Imprisoned Journalists Amid Violent Protests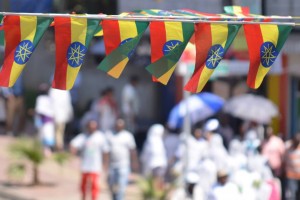 The United States has expressed concern over the recent arrest of journalists in Ethiopia amid deadly protests over a government plan to extend the capital Addis Ababa into Oromia.
On Wednesday, the US urged Ethiopia to release journalists and all others imprisoned for exercising their rights of expression.
In an unusual criticism of its key African ally, the US warned the Ethiopian government to stop using its Anti-Terrorism law to silence members of the opposition.
"We urged the Ethiopia Government to release journalists and all others imprisoned for exercising their right to free expression, to refrain from using its Anti-Terrorism Proclamation as a mechanism to silence dissent," National Security Council spokesman Ned Price said.
Price said although the US applauded Ethiopia for releasing a group of Zone 9 bloggers earlier this year. Washington is "deeply concerned by the recent arrests of other journalists".
According to Human Rights Watch, about 75 people were killed in clashes with Ethiopian security forces during weeks of protests against a government regional expansion plan.
Reuters reports that several opposition leaders were arrested last week Friday on suspicion of inciting the student protests.
The US has consistently praised Ethiopia for its trailblazing economic achievements. However, Washington has also warned that a continued hardline against freedom of speech and democracy could inhibit Ethiopia's hard earned economic feats.
"The United States has consistently applauded Ethiopia for being a model and a voice for development in Africa, but such gains must rest on a foundation of democratic governance and respect for human rights if they are to be sustainable," Price said.
"We continue to urge the Ethiopian Government to build on earlier developments by strengthening free speech protections and broadening democratic progress, and note that the continued stifling of independent voices will only inhibit such progress as well as development and economic growth."
Photo: John Iglar