Viral Amateur Video Shows Plight of Ethiopian Women in Kuwaiti Prison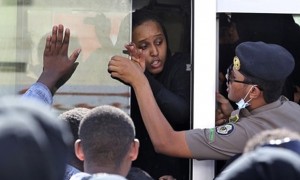 An amateur video showing the plight of a group of Ethiopian women in a Kuwaiti prison has gone viral, leading to calls for their release.
According to Migrant-Rights, the video, which features over 10 women in a single cell, was shot with a cell phone a week after the women were arrested.
A weeping voice details the difficult conditions the women are forced to cope with in Amharic. The women, who mostly worked in Kuwait as domestic workers, have reportedly been abused and beaten.
The Ethiopian embassy in Kuwait is said to have been informed about the incarceration of the women. Many Ethiopians have called on officials to facilitate their release.
Officials confirmed that the women were being detained in Kuwait's al-Nai'm prison. Local authorities say they were arrested at checkpoints and during raids.
Reports indicate that many of the women are "absconding" workers who escaped from their employers.
The exact reasons why they women left their employers is still unclear. However, when Kuwaiti police arrested them, they were reportedly without any proper documentation.
The women are set to be deported to Ethiopia. However, they remain in limbo due to conflicts with their sponsors. Their deportation is reportedly being delayed because of unpaid fines, debts and visas with sponsors.
A group of Kuwaiti lawyers and activists have reportedly been working to pay-off some of their fines anonymously. This, they hope, would reduce the time the women would have to spend in detention.
According to Migrant-Rights, deportations usually take at least two weeks to finalize. However, no specific time has been set for their deportation.
Kuwaiti authorities have deported over 25,000 migrant workers since a crackdown on undocumented workers began last year.
Kuwait is the largest employer of domestic workers in the Middle East which attracts about millions of workers from developing countries yearly. It is estimated that there are about 666,000 domestic workers in Kuwait – many are from Africa and Asia.
The country also has the highest ratio of domestic workers to citizens in the region with about 90% of Kuwaiti household employing a foreign maid.
There are over 74,000 Ethiopians in Kuwait and many of them are domestic workers. According to Kuwaiti's Kafala sponsorship system, these workers, who sometimes suffer terrible abuse, are not allowed to leave or change jobs without the consent of their employers. They are considered 'illegal' if they flee from their employer.
Foreign domestic workers in the country reportedly suffer abuses including long working hours without rest, non-payment of wages as well as physical and sexual assault.
"The sense of having 'paid for' or having 'brought' a worker makes some employers feel entitled to feel the worker however they wish," a 2010 Human Rights report said.
There have been several cases of workers being abused and mistreated by employers in the country. Maids have made headlines for perpetrating violence against their employers and their family members. Experts say these crimes could be triggered by depression and other psychological disorders caused by inhumane working conditions.
Photo: Reuters