Ethiopia Warns Saudi Arabia and UAE of Consequences if Eritrea Attacks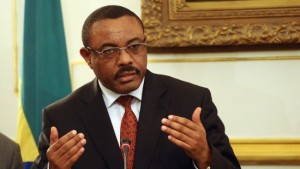 Ethiopia's Prime Minister Hailemariam Desalegn has warned Saudi Arabia and the United Arab Emirates (UAE) that there will be consequences if their military operation around Eritrea's coast leads to the latter advancing plans to destabilize Ethiopia.
A United Nations (UN) report published last month revealed that Saudi Arabia and UAE are paying Eritrea to use the country's land, airspace and territorial waters. The Arab coalition has reportedly leased Eritrea's Port of Assab for 30 years – from where they will lead the fight against the Houthis in Yemen.
"They have assured us that they would not be engaged in activities that would endanger the peace and security of Ethiopia," Hailemariam said about Saudi and the UAE. "They have said this is only a choice of tactical convenience to their operation in Yemen and that they would evacuate the area as soon as the mission is completed."
Hailemariam also stressed that the neither the UAE nor Saudi Arabia consulted Ethiopia before reaching the agreement with Eritrea. As a result, there will be reprisals if their military and logistical operations enrich Eritrea to attack Ethiopia.
"We have also stressed that they will bear the consequences of our response if their operation in the area supports the Eritrean regime's destabilization agenda against Ethiopia," Hailemariam said.
"Although we understand their objective, we were not consulted before the countries reached this agreement. We have a right to protect the sovereignty of our country. And this might depend on the actions of the Eritrean regime."
Hailemariam dismissed reports that Saudi Arabia and the UAE leased the Port of Assab from Eritrea for 30 years. According to him, there is no evidence that such a deal was reached.
Tensions still abound between neighbors Ethiopia and Eritrea who fought a war from May 1998 to June 2000.
Ethiopia's warning echoes that of the UN, which said Eritrea could violate Security Council resolutions if they divert the compensation received from Saudi Arabia and the UAE "towards activities that threaten peace and security."
Saudi Arabia and the UAE reached the agreement with Eritrea earlier this year after Djibouti turned down a similar proposition.
However, Eritrea which has been described as Africa's North Korea due to its closed borders, accepted the deal. Reports indicate that as part of the deal, the Arab coalition would give Eritrea fuel and financial compensations, which would go a long way to fund the heavily sanctioned government.
The Arab coalition has reportedly also signed a similar deal with Sudan. Both Eritrea and Sudan have reportedly provided 400 and 300 soldiers respectively for the coalition's campaign in Yemen.
The coalition is trying to reinstate President Abdurabuh Mansur Hadi, who was forced to flee to Saudi Arabia last year after Houthi rebels took over the country's capital Sana'a.