Air China Successfully Launches Maiden Flight from Beijing to Addis Ababa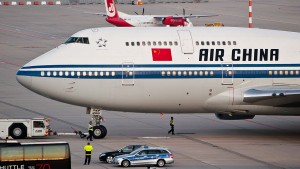 Air China made its first direct flight from the China's capital city Beijing to Addis Ababa, Ethiopia on Monday. The is the second flight route that the Asian airline giant has launched to Africa in less than a week after debuting its Beijing- Johannesburg route on Friday.
Air China's maiden flight to Addis Ababa was made with an Airbus A330 aircraft, which carried around 300 passengers. The plane touched down at the Bole International Airport in Addis Ababa.
According to Chinese state media, Air China would ply the Beijing-Addis Ababa route three times a week.
Tewolde Gebremariam, CEO of Ethiopian Airlines Group, said at the launch of the Beijing-Addis Ababa route that both Ethiopian Airlines and Air China are members of Star Alliance and as such would cooperate and compete with each other.
"It is going to be both cooperation and competition; we call it a friendly competition. So, we are very happy that Air China has chosen Addis as is hub in Africa," Tewolde said.
"Air China flies to 225 destinations in China domestically; and Ethiopia Airlines (flies) to more than 50 destinations in Africa. So, we have a lot of synergy, complementarity; so, we are going to cooperate in that line. But, at the same time we are going to compete. So, it is competition and cooperation."
Liu Tiexiang, Senior Vice President of Air China, said at the launch ceremony that the flight will serve as a convenient bridge between Africa and China.
China has increased its investments in Africa since 2014 when Premier Li Keqiang visited the African Union. Li said by 2020, China expects to increase its trade volume in the continent to $400 billion, while also increasing its direct investment in Africa to $100 million.
China's direct investment in Ethiopia, particularly in the manufacturing and export sector, has been crucial to the country's economic development.
Ethiopia's Minister of Finance and Economic Development told Xinhua that China's investment has supported the government's goal of diversifying the country's economy.
Photo: Julian Herzog