Eritrean Players Seeking Asylum in Botswana Still Wearing Their Jerseys, Haven't Changed or Bathe since Oct.13th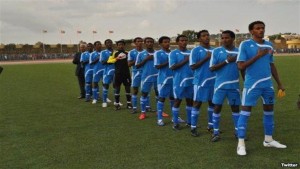 Ten players from the Eritrean national football team seeking asylum in Botswana, where they went to play a World Cup qualifying match earlier this month, are being held in a highly secured facility without access to some of their most basic needs, including new clothes and soaps.
On Friday, Dick Bayford, a human rights lawyer representing the players, expressed worry that the athletes are still wearing the uniforms they wore when their team lost 3-1 to Botswana on Oct. 13th.
Bayford said the players, who are currently held in a "high-security facility" in Francistown, have not yet been given either washing or bathing soap.
He stressed that the athletes have "no access to the outside world" and have not been able to communicate with their relatives since their detention.
Last week, a Botswana High Court judge set Dec. 11th as the date for the hearing of their asylum applications. The ruling came after the players, who refused to go back to Eritrea because they claim their lives are in 'danger,' were threatened with being deported.
Bayford explains that some of the defecting players were members of the Eritrean army. They could be charged with treason and face a court martial if they were to return home. Eritrea punishes this crime with the death penalty.
Bayford praised Botswana as a country that respects human rights. However, he noted that some government officials of the southern African country have been trying to convince the players to turn down legal services from the organization he represents – the Eritrean Movement for Democracy and Human Rights (EMDHR).
Five Botswana government officials reportedly visited the players with an interpreter to convince them that their lawyers were stalling their asylum application process. According to Bayford, the unknown officials said Botswana was willing to give the players asylum.
"These faceless officials made the Eritreans write individual letters in their language saying they do not want anything to do with us and sign them. We have tried and even went as far as checking the occurrence register to see who these officials were but unfortunately there are no record, which is amazing for such a highly secured facility," Bayford explained.
He said the unknown officials brainwashed the 10 players and it took hours of explaining to show the athletes that the maneuver was to cause a rift between them. They reportedly won the players over by showing them messages from their relatives back in Eritrea who are worried.
Bayford said he has received an assurance from the superintendent of Botswana's Prison Services that a thorough investigation would be conducted to uncover the identity of the officials who met with the players.
"There should be CCTV footages and we will take them to court on contempt charges," Bayford said.
Eritrean athletes have a history of seeking asylum and abandoning their national duties during international competitions. The trend, which goes as far back as 2007, has alarmed regional sporting events organizers. So, far, over 40 members of the Eritrean male national football team have detected.
The United Nations (UN) has criticized the Eritrean government for human rights violations, including extra-judicial killings, torture, slavery and mass imprisonment of members of the opposition.
Eritrea has consistently denied reports of widespread human rights abuse. However, athletes continue to seek asylum whenever possible.