Ethiopian Renaissance Dam Construction is Almost 50% Complete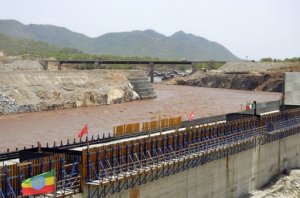 A high ranking Ethiopian official has confirmed that the construction of the Grand Ethiopian Renaissance Dam (GERD) is almost 50 percent complete.
Debre-Tsion Gebre-Michael, the finance and economic cluster coordinator as well as the minister of information, communication and technology, told the press on Wednesday that the dam is about 47 percent complete. He revealed that up to 47 billion Birr (over $2 billion) has been spent on the project thus far – over three percent of this funding came from the public.
On Thursday, Simegnew Beleke, the Renaissance Dam project coordinator, also announced that the project is almost halfway done. He noted that engineers are working non-stop on the dam.
The Ethiopian Renaissance Dam is by far the most ambitious hydroelectric power project on the African continent to date. Upon its completion in July 2017, the plant is expected to generate up to 6,000 MW of electricity.
Debre-Tsion, who explained that the increased electrical supply will support Ethiopia's industrial expansion, said some power from the GERD will be diverted to the existing national grid.
The grand scale of the Renaissance Dam has been a source of concern for nations downstream that depend on the Blue Nile. The dam will have the capacity to hold up to 79 billion cubic meters of water when it is completed. Egyptian authorities have fears that the dam could drastically reduce the country's supply of fresh water.
Since Ethiopia, Egypt and Sudan signed a Declaration of Principles on the Renaissance Dam in March, tripartite talks to resolve the impasse has almost grinded to a halt.
Two consultancy firms – Deltares from Holland and BRL Group from France – were hired to assess the risks of the dam have failed to submit their reports. Last month, Deltares withdrew its initial report on the dam, explaining that it did not have the opportunity to carry out an independent, in-depth study.
Meanwhile, representatives of Ethiopia, Egypt and Sudan have failed to arrange a date for their next tripartite talks since an Oct. 4 meeting was postponed by Addis Ababa.
Egyptian officials, who have accused Ethiopia of stalling the talks, are reportedly mulling a decision to invite the United Nations (UN) to mediate the dispute.
Earlier in the week, the Egyptian Irrigation Minister Hossam Moghazi revealed that discussion for the next tripartite meeting is ongoing. He noted that the meeting is likely to take place during the last ten days of this month.