Coach of Eritrea's National Football Team and 10 Players Seek Asylum in Botswana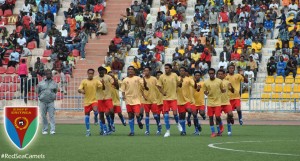 GABORONE – The head coach of Eritrea's senior football team and 10 players are seeking political asylum in Botswana – where they played a qualification match for the 2018 World Cup this week.
On Tuesday night, the Red Sea Boys of Eritrea lost 3-1 in a game against host Botswana in Francistown.
Basadi Akoonyatse, vice president of Botswana's Football Association (BFA), said on Wednesday morning that the players and their head coach Alemseged Efrem were missing from their hotel in Francistown.
Akoonyatse added that after mounting a search, some of the players were found in Red Cross offices where they sought political asylum. Other members of the team were found hiding in bushes across the city.
The players and their coach have refused to be transported back to Eritrea. According to Akoonyatse, they claim that their lives are in danger. However, they did not give details into what threatens their lives back home.
The Eritrean ambassador to Botswana also tried unsuccessfully to convince the players to return back home with their teammates. The players seeking asylum are currently being detained by Botswanan authorities.
Some reports suggest that police have attempted to remove them from the county forcefully. However, the reports have not been substantiated.
This is not the first time Eritrean athletes competing in international events have refused to return home in search of asylum. The trend, which has alarmed regional sporting events organizers, has been happening as far back as 2007. So far, at least 45 members of the male national football team have defected.
The United Nations (UN) has criticized Eritrea for human rights violations including extra-judicial killings, torture and mass imprisonment of members of the opposition.
Reports indicate that the Eritrean government has banned its citizens from traveling to all foreign countries. The UN has criticized the government for forcing Eritreans to join the national service, where they could serve indefinitely.
President Isaias Afewerki administration has consistently denied the reports of human rights violations.
According to a Botswana report, the footballers are seeking asylum because they dread the possibility of serving in the army indefinitely.
Dick Bayford, a lawyer with the Eritrean Movement for Democracy and Human Rights (EMDHR), told Reuters that some players seeking asylum were members of the army. If they return home, they risked being charged with desertion – a crime punishable by death in Eritrea.
The Eritrean government has sought to solve the issue of defections by its athletes by withdrawing or abstaining from international sporting competitions. The government has also required a form of "deposit" from its athletes before they travel abroad. If they defect, their families in Eritrea would be fined.
"They punish the families by pushing them to pay around 5,000 euros ($6,000) and for those that have 65-year-old mothers with no money, those mothers are jailed for three or four months, "Berketeab Tesfai, an Eritrean currently living in Holland, told the New York Times last year.
The other 24 members of the Eritrean squad returned home on Wednesday.
Photo: tigrignamovies.com