Ethiopia, Kenya and Tanzania Advance to Second Round of 2018 Russia World Cup Qualifiers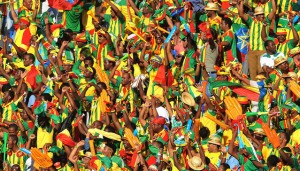 ADDIS ABABA – Three East African teams became the first on the continent to advance to the second-round of qualifiers for the 2018 FIFA World Cup in Russia on Sunday.
Ethiopia, Kenya and Tanzania managed to secure their places in the next round with aggregate victories – just one team recorded a win over the weekend.
The Walya Antelopes, who hosted Sao Tome e Principe in Addis Ababa, were conscious not to allow a repeat of their shocking defeat to the Islanders on Thursday. Sao Tome's 1-0 victory over Ethiopia was their first ever World Cup win.
The Walya's Dawit Fekadu first minute goal presaged the 3-0 thrashing of Sao Tome e Principe in the second-leg tie. The Ethiopia team dominated the match but missed several chances and were unable to increase their tally until the second half. In the 48th minute, Gatoch Panom scored a penalty kick and Ramkel Lok scored the third goal in the 74th minute.
The Walya Antelopes are scheduled to face Condo Brazzaville in November, when the next round of qualifiers would be played.
Meanwhile, in Nairobi, Kenyan supporters were disappointed and many booed as the Harambee Stars narrowly secured a goalless draw against Mauritius. Kenya was spared a defeat by poor finishing from Mauritius. The island nation lost 5-2 to Kenya at home during the first-leg of the match on Wednesday. On Sunday, a series of brilliant saves from goal-keeper Kevin jean-Louis, who was later awarded man of the match, kept the tie goalless.
Kenya is scheduled to meet Cape Verde Islands in the next round of games.
In Blantyre, Tanzania lost 1-0 to neighbors Malawi despite recording a 2-0 victory during the first leg in Dar-es-Salaam last week. Tanzania's goalkeeper Ally Mustafa was busy throughout the game. Despite his efforts, Malawi's John Banda scored a 43rd minute goal.
The Flames of Malawi dominated the second half and were determined to grab a second goal, which would have leveled the tie and led to a penalty shootout. They came close on several occasions but were unable to put the ball in the net.
The Taifa stars advance to the next round of the qualifiers due their two goal advantage. Tanzania now faces a difficult next round as they come against the highly ranked Algerian team.
Many teams across the continent are scheduled to play their second-leg fixtures on Tuesday. The 40 teams that qualify to the second round will contend for the five slots reserved for African teams at the 2018 World Cup in Russia.
Photo by AFP