Ethiopia's coffee sales continues to benefit from Brazil's drought
By William Davison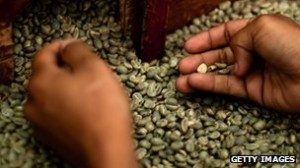 Blomberg (Addis Ababa) – Ethiopia's arabica coffee export earnings are forecast to climb 25 percent to about $900 million in 2014-15 because of higher prices after a drought damaged plants in the biggest grower of the bean, Brazil, an industry group said.
Arabica prices on the Ethiopia Commodity Exchange could average $2 a pound if supplies of the crop in the world market are tight, Ethiopian Coffee Exporters' Association General Manager Alemseged Assefa said in the capital, Addis Ababa. Ethiopia is Africa's biggest producer of the crop and the origin of the arabica plant.
"Prices are favorable this year because of the Brazilian coffee drought," Alemseged said in an interview on Aug. 18. "We presume that price will continue because of the drought."
Arabica has surged 71 percent in New York since January after a drought hurt plantings in Brazil, the world's biggest exporter of the beans, fueling speculation that consumption may outstrip supply. The Brazilian woes come as plantings in Central America, Mexico and Peru struggle to recover from a crop disease called leaf rust that has cut yields across the region over the past two years.
Arabica coffee for December delivery rose 1.5 percent to $1.89 a pound on the ICE Futures U.S. yesterday, tumbling 12 percent from a two-year high in April.
Stable Prices
Ethiopia earned $719 million from sales abroad of the beans in the 12 months through July 7, down 3.7 percent from a year earlier. The volume of exports fell 4.1 percent to 191,000 metric tons. The country may produce about 500,000 tons of the beans this year, with about half of that crop sold outside the nation, Alemseged said.
Consumption within Ethiopia, sub-Saharan Africa's second-most populous nation, accounts for the rest of sales, with the average home drinking a cup of coffee two or three times a day and coffee ceremonies a traditional way to welcome guests, according to the U.S. agriculture department.
Prices should be in the "stable to high range" of as much as $1.80 a pound this year, said Fekade Mamo, general manager of Mochaland Import and Export, an Addis Ababa-based coffee trader. "This deficit is real," Fekade said.
An expansion of plantings in coffee-growing areas may help boost the crop, Alemseged said.
Horizon Plantations, a company owned by Ethiopian-born Saudi billionaire Mohamed al-Amoudi, bought the 10,000-hectare (24,710-acre) Bebeka and 12,114-hectare Limmu coffee farms from the Horn of African government last year.
The exporters' association wants to bring in new buyers and start making a bigger presence in the world market at its annual conference in Addis Ababa on Nov. 6-7, Alemseged said.
"There's a great potential, excess supply," he said. "We aim to increase our share in the global coffee market."