By HENRY KIBIRA AND CALVIN ONSARIGO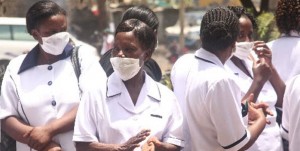 The Star (Nairobi) – A patient died yesterday at the Coast General Hospital even as the doctors' union told members countrywide not to work unless their July salaries are paid in full.
The news came when doctors and nurses have vowed to team up and push for their July pay and perks, failing which they will paralyse operations countrywide.
Medical workers have called on county governments to move with speed and pay their July salaries within the agreed time frames to avert a national catastrophe in the health sector.
The total number of deaths now stands at six since the workers at the hospital downed tools last week.
The patient, who was referred from Kwale Hospital after sustaining severe head injuries in a road accident, needed an operation in the Intensive Care Unit. Relatives said the patient succumbed to his injuries after he was inadequately attended to by doctors.
The workers are protesting the delay by the county government to pay their July salaries. The standoff has grounded critical medical services at the Coast.
The doctors and nurses' unions have however clarified that their latest move does not amount to a strike, and are calling on their counterparts who have been paid not to go on strike.
A spot check by The Star revealed that most women in the Labour ward and patients in Emergency units at the Coast had not been attended to, with only a few trainee medics striving to salvage the situation.
Speaking on the phone, the Kenya Medical Practitioners and Dentists' Union chairman, Victor Ng'ani, said the members who are yet to receive their salaries will continue to stay away from work "for as long as they can as they look for money to attend to their basic needs".
"We have instructed the doctors that those who have not been paid just go and look for money, and we expect other health workers to join in today [close of business yesterday] if the money will not have been released," Ng'ani said.
His sentiments were echoed by the Kenya National Union of Nurses' secretary general, Seth Panyako, who called for a speedy solution to rescue the health sector.
"This sector has collapsed; there is no way health workers can work without salaries. We don't understand why the governors are holding onto our money without any reason," Panyako said.
A patient, Abdalla Hussein from Kinango, who was last week knocked down by a lorry and needs surgery, is still admitted at the hospital. "The situation is bad and is worsening by the day. He has fractured his leg and needs to be operated on urgently. We are told to wait, but nothing is happening, yet nobody seems to care," said Halima Mwingi, a relative.
Photo/Tom Maruko