Somali army chief escapes assassination attempt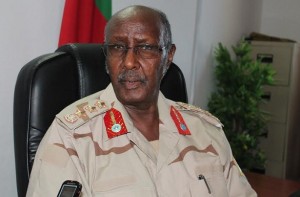 The Chief of the Somali National Army, General Dahir Adan Elmi, has escaped a close call on his life after a road side bomb was detonated near his passing convoy at Hodan district, Mogadishu.
Reports indicate that the general was on his way to the defence ministry's headquarters when the improvised explosive device was remotely triggered.
Local sources say some of the general's bodyguards sustained injuries from the attack and that at least one of the vehicles in this convoy was badly destroyed.
No group have claimed responsibility for the assassination attempt yet. However, many pundits have implicated al Shabab.
The al Qaeda-linked militants have carried out a series of deadly attacks on top Somali officials this year; killing two lawmakers last month. Besides assaults on some of the most prized locations in the country, the terrorists have also attempted to breach the presidential palace. This past weekend the federal parliament was temporarily overrun by al Shabab gunmen during a session. However, they were quickly repulsed.
In the aftermath of this daring raid, the country's National Security Minister, Hussein Guled, has resigned. Many critics have identified faults with Somalia's security service and reports indicate that the government is planning to reshuffle the top operatives of the sector.
Photo/Breda News