Djibouti: Suicide attack on popular restaurant kills 3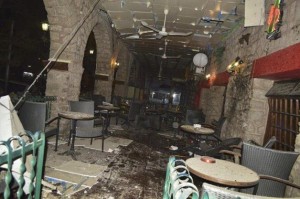 An explosion at a highly patronized restaurant in the capital of Djibouti on Saturday evening has killed 3 people and injured up to 15 others, according to local sources.
The Interior Ministry has revealed that the attack was carried out by 2 Somali terrorists; suspected to be a male and a female. However, neither al Shabab nor any other group have owned up to it yet.
Despite hosting several foreign militaries including the United States, France and the European Union naval force, Djibouti has been largely spared from the brunt of terrorist activities in the region.
Nonetheless, experts have always raised concerns that the tiny Red Sea country is a target for the terrorists.
Many of the injured from the recent attack are reported to be members of foreign militaries. Officials have noted that 4 of them are in critical condition.
Reports indicate that the attackers exploded two cars in front of the La Chaumiere Restaurant, which is highly patronised by foreigners.
The Head of Police of Djibouti City, Colonel Omar Hassan, revealed that the attack was carried out using grenades.
The President of Djibouti, Omar Guelleh, has promised to 'hunt' the perpetrators of the deadly blast. "They will not get away with it," he said.
"Terrorism and extremism are nemesis to peace and development…Djibouti will continue its fight geared towards uprooting terrorism and extremism," he added.
Meanwhile, the European Union Naval Force Somalia (EU-NAVFOR), the African Union (AU) and the Arab League have all condemned the recent attack and have vowed to continue to support efforts to restore peace to the region.
Photo/AP